With the welcome news of COVID-19 restrictions being scaled back, Australian families are naturally desperate to get out and about. At the same time, we must acknowledge that social distancing and home-based play and learning will remain in our lives to some degree; at least until a vaccine is found and perhaps beyond. As we all do our bit to avoid a potential second wave of the pandemic, parents are tasked with finding sustainable ways to balance kids' exposure to public spaces with at-home time. But what if your kids are stir crazy and you've run out of ideas to keep them stimulated?
Our friends at Modern Brands have offered up a fabulous selection of 'back to basics' toys and activity ideas for Aussie kids to thrive during all stages of our new normal – from lingering lockdown measures to the post-pandemic era, and everything in between.
Embracing traditional play
A silver lining of coronavirus is that we've developed a newfound appreciation for the simpler things in life and re-prioritised family time. It's important to keep that momentum going – not only for our continued health and safety, but to preserve these values post COVID-19. Entertainment through screen time will of course remain a popular tactic for families, but everyone is probably feeling some fatigue from digital devices.
So break up the monotony! We're sure many parents fondly recall adventures from their own childhoods in which technology did not take centre stage, but was no less rewarding. Embrace that nostalgia and go back to tried and true playtime with your kids. Best of all, traditional play needn't break the bank. Here are some surefire ways to keep them stimulated:
Puzzles & thinking games 
Puzzles come in many different forms, but jigsaw puzzles in particular have experienced a resurgence during COVID-19 for families to wile away the hours at home. A key benefit is that it's a tactile activity which develops kids' hand-eye coordination, fine motor skills and concentration, with bigger-sized puzzles inspiring a team effort. Furthermore, puzzles move at a slower pace and instill patience, which is a virtue we all need to strengthen in order to overcome COVID-19 for good! Start your puzzle search with Ravensburger, who'll have a puzzle to suit *every* family's personality. Also, for younger kids be sure to take a look at the wonderful educational jigsaw collection from Orchard Toys.
On the games front, ThinkFun is a world leader in addictively fun games, especially for one player and also for the whole family that stretch and sharpen the mind, making you think while they make you smile! Every age group and virtually all play preferences are catered for in their range, covering physical dexterity, spatial reasoning, and imaginative play. Orchard Toys games are also family favourites around the world. Every Orchard game helps players to develop a particular skill such as Numbers & Counting, Matching & Memory or Shape & colour.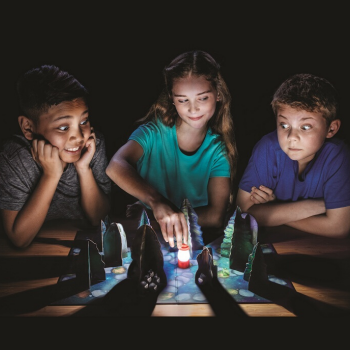 Arts & crafts
Considered a long lost tradition in the family unit, people have now rediscovered crafts as a way to find creative fulfillment and a sense of achievement in an otherwise uncontrollable world. With their limitless imaginations, kids are engineered for this kind of stuff! To get the ball rolling, parents can harness the free craft templates that are being posted online, which vary from the elaborate to the inexpensive. Start your craft search with brands like Little Brian Paint Sticks, Melissa & Doug, Galt, Nebulous Stars and SpiceBox.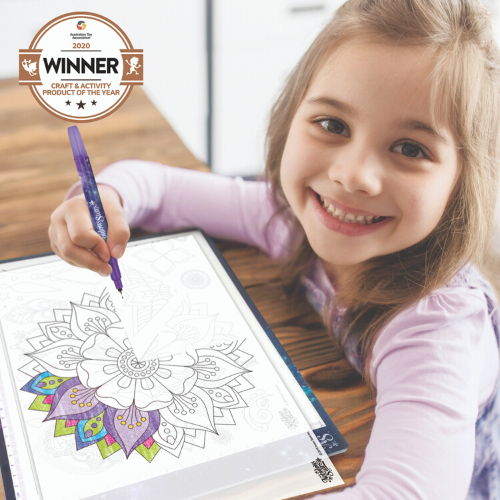 Similar to crafts, art has been a therapeutic and unifying force during this pandemic. Artwork allows us to express feelings and can serve as an important emotional outlet for kids who are not yet adept at communicating. Nebulous Stars is one such arts and craft activity aimed at young girls and inspired by the cosmos, which promotes mindfulness through the calming practices of meditation and relaxation, while encouraging creativity.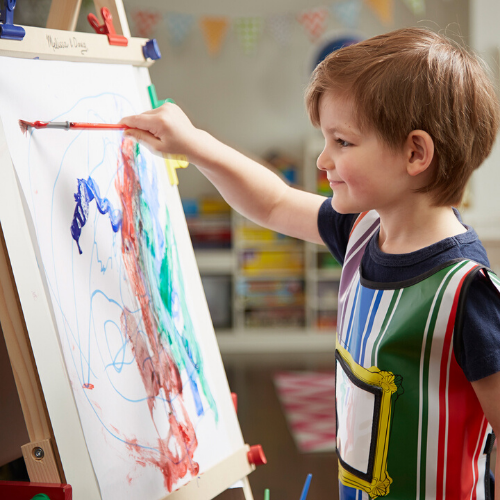 Encouraging outdoor play both in an out of the home
Outdoor time for fresh air and exercise – however brief and infrequent- has been a saviour for our physical and mental health as we feel the squeeze of our houses' four walls. Much of children's unstructured play which is important for brain and social development, occurs outside, so kids will be finding COVID-19 limitations particularly hard. As we gradually emerge from lockdown measures, reconnecting with nature is crucial to giving your kids hope and a sense of normality in a changed world.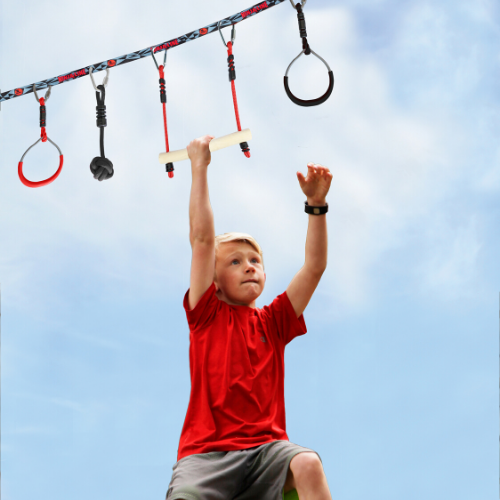 Backyard games
Australian families are generally blessed with more space than other regions of the world, so there is plenty of potential to enliven the body and mind in your very own backyard. Unstructured play around the yard will eventually become tiresome for kids, so guided play surrounded by family is important, and play equipment is a sound investment. Orbit trampolines and Orbit Tennis Original are still family favourites and a fabulous choice if you have the space. And if you really want to transform a seemingly lacklustre backyard into an adventure odyssey, then look no further than Slackers backyard adventure gear. With obstacle courses and a Ninjaline that has sold over 1 million times across the world, your kids may never want to go to the public park again!
Socially-distanced play
Families will need to locate wide open spaces that enable them to safely practice social distancing, and prepare for the fact that their favourite spots such as parks and beaches may become too crowded to visit. Travelling too far from home is not always practical, and if you don't have a large yard and need to venture out from the home, you can swap the communal playground with more solo activities. For instance, bikes or scooters from Scoot & Ride & Eurotrike are a great option for exercising whilst maintaining social distancing.
Blending learning with play
Kids have undergone a massive upheaval to their learning which has proven their resilience and caused us to rethink how education can be delivered. Although we'd probably all agree that a structured school environment is best for kids, parents picking up the slack during COVID-19 has taught us that a set school curriculum is not the only way to learn – especially for younger children. As they transition back to face-to-face teaching, it's a good idea to blend learning with play to keep kids thriving:
STEM projects
There's been a big push for STEM learning (science, technology, engineering, and mathematics) in recent years, and is the equivalent of the chemistry set or erupting volcano project you may remember from your own childhood. Encouraging STEM in your children now will prepare them with future-ready skills, and parents needn't feel the pressure of aligning with the STEM curriculum, as many products on the market have done the hard work for you! Did you know that STEM toys can cater to kids as early as 6 months of age, all the way to teenagers? They range from growing crystals to building robots, and Mum or Dad might even learn a thing or two! Galt Science Kits will have the budding scientists in the family captivated, and on the robotics side, you can't go past Wonder Workshop's amazing Dash the Robot. Dash is a real robot that moves and responds to commands through the use of apps which introduce kids to coding. Best of all, it's not just a toy – it serves as a tool for real-world problem-solving.
Other very instructive and popular STEM ranges from Modern Brands include Science4you, Discovery Adventures and k'nex. Science 4you has some really great "Green Science" titles including, for younger people, a life size Wind Turbine experiment. Discovery Adventures items provide a wonderful STEM experience indoors, outside and for exploring the sky at night. K'nex is a very well-established brand which embraces the "T" in STEM. Use rods, connectors and your imagination in a wide range of construction projects including, for ages 3 to 5, a stunning Blinkin' Buddies set, all the way up to the newest Eiffel Tower model for ages from 8 years and up!
New experiences
As a Cambridge University Professor recently put it, "Learning at home does not have to look like school, and probably shouldn't". Instead of parents stressing that they aren't adhering to formalised teaching methods, they should focus on introducing kids to new ideas and concepts to see what sticks. Put a ukulele in their hands to develop musical skills or assign an age-appropriate cooking task to test their attention to detail. For more guided educational toys and resources, your go-to brands include: Orchard Toys, Melissa & Doug, PlanToys, and Galt.
To get more inspiration on ways to keep kids entertained and gain access to Australia's best toy brands and products, check out the Modern Brands website: https://www.modernbrands.com.au/
You may also like to read:
170 Activities To Keep The Kids Busy In Isolation
Online activities to keep kids entertained, educated and energised