Little girls have a way of making a mess of their hair – they muck things up, squirm around, and at the end of the day, the parents have to clean up the mess. A cute hairstyle is an excellent way to keep their hair prettily out of the way during these everyday adventures. Now, you might want to go for the traditional ponytail or plait, but they're conventional and uninteresting.
So, here are 7 adorable and super easy hairstyles for toddler girls you can go for:
Elastic Braided Pigtails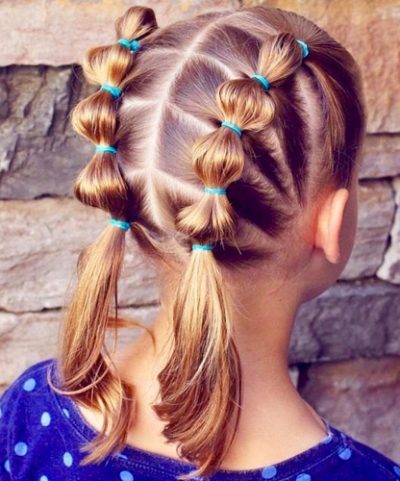 This quirky hairstyle is very easy to accomplish even for parents who're not very adept with hair-management. All you have to do is part your girls' hair from the middle, then create a row of equidistant small pigtails on each side. When you're done with that, you can take an elastic band and merge the first pigtail into the second, the second into the third, and so on, until you reach the very bottom. Lastly, you can fluff up each tail for a more beautiful impact.
Cute Hair Bow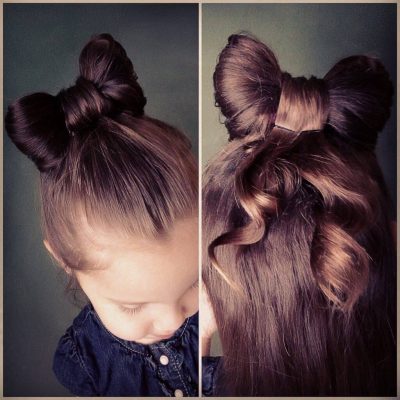 Cute bows are a total toddler girl staple and now you can craft one out of your kids' hair itself with this pretty hairstyle. It's pretty simple to make; firstly, you'll have to gather the hair that you want to make into a bow in a neat ponytail. At the very last wrap of the elastic, only let through the tip of the tail and have the left-over facing the front. Now you'll have a thick flouf that you can part in the middle and wrap the left-over hair in front of. Pin the whole thing in place and set it with a bit of hairspray.
Simple Flower Buns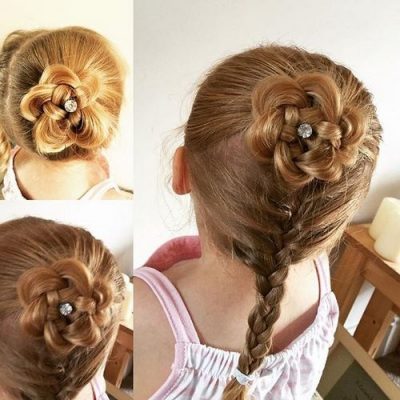 Flower buns may look totally intricate, but they're incredibly simple to make. They'll also make your little girl squee with joy for their prettiness. You can easily make one by gathering the hair into a half-updo style and then twisting it into a braid. Make sure that the braid is thick and slightly loose – but not too much. Then arrange the braid into a small bun, pin it properly, and stretch out the border pleats loose to make it look like a blooming flower. You can even put in a decorative pin in the center for extra impact!
Tripple Pleated Braid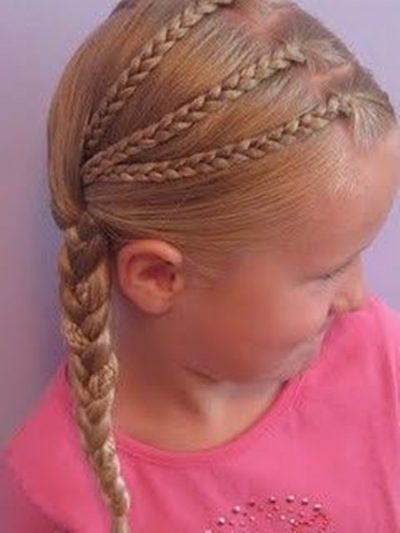 Let's be honest – pleats are totally timeless and you can literally make tons of hairstyles by arranging them in many different ways. This particular pleated braid hairstyle will definitely pretty-up your toddler girl. You'll have to start with an uneven hair parting – about three-quarters of the hair on one side and one-quarter on the other. Then made three individual pleats on the side with more hair and merge them together at the bottom. Lastly, pull the one-quarter hair from the other side and twist it into one single big braid with the merged pleats in the mix.
Twisted Hair Crown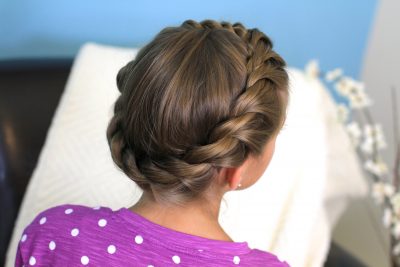 Crown braids are timeless, but did you know that you don't really have to master French braids to make one for your little girl? The twisted hair crown works just as well. You can make it by creating a deep part on the left side of the head, then creating a rope twist from left to right all the way around the head. Keep the strands tightly packed till the end and pin it to the side when you have no more hair to twist. You can find a more in-depth tutorial of this technique here.
Ribbon Twisted Ponytails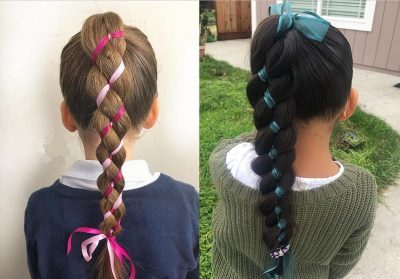 A classic twisted ponytail entwined with ribbons can make your toddler girls day! It's very simple to make; just gather up her hair in a high ponytail, then divide it into two equal parts and twist them around each other. You can then take two colored ribbons and twine them around the pony twists to spruce things up!
Bun-braided pigtails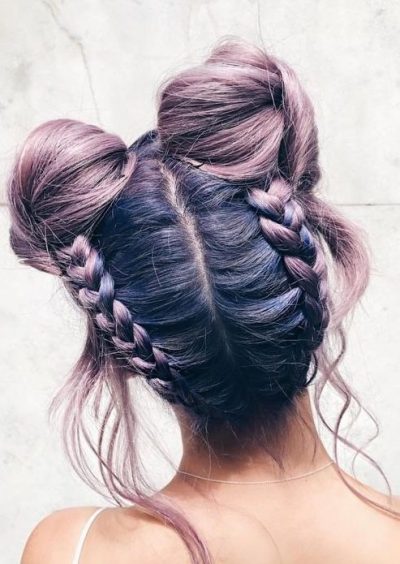 This super easy hairstyle is a fan-favorite with many toddler girls and their parents. It combines two of the most typically used hair-styling techniques into a single, stylish version. Once again, you'll have to create an equal parting in the middle. After that, take a quarter of the hair from the top on one side and twit it into a half-bun with a few strands dangling out from the bottom.
Secure this bun with some bobby pins and then braid the left-over strands at the base into a neat little pleat that can be pinned at the base of the neck. Repeat the same process on the other side, and you'll have yourself a cute little hairstyle!
Since no hairstyle can be made on unkempt hair, you can occasionally accompany your little girl to a hair-dresser for regular trimming and upkeep. Other than that, whether you're helping your late-walker take their first steps or incurring their help with fun gardening ventures, these fun hairstyles will keep their hair neat, clean, and totally out of the way!
Sarah Pelham is the Beauty & Wellness Expert for Bookwell.com.au, an online platform for instant bookings for hair, nails, beauty & massage appointments. For nearly four years Sarah has worked closely with hundreds of salon owners within the beauty and wellness industries. She has her finger on the pulse of new trends in this growing market.
You may also like to read:
Fun Easter Activities for Kids