If you celebrate Christmas, then you would know how busy things get towards the end of the year.
Here is a list of easy and fun snacks to bring along to your end of year functions.
Melting snowmen
Melting snowmen are a cool idea that I found on Pinterest a few years ago. They are always a hit and easy to do.
What you will need:
Plain round biscuits, (I use Marie biscuits, but you can also make your own if you have a bit of extra time and energy.)
Icing sugar
Marshmallows
Writing icing (you can use coloured icing or melted chocolate)
Candy balls (or any other candy that resembles buttons)
Sift icing sugar into a bowl and add water. Mix to make a thick mixture
Ice biscuits and set aside
Draw faces on the marshmallows with the writing icing and position them on to the biscuit
Carefully place the candy on to the biscuits
Once the icing is set, use the writing icing to draw on the arms
Strawberry Santas
Strawberry Santas are incredibly easy to make and are great for people who are after something sweet but not wanting something too unhealthy
What you will need:
Strawberries
Cream
Castor Sugar
Chocolate melts
Whip cream together with the desired amount of castor sugar
Cut the top of the strawberry off
Place a small amount of cream on the base of the strawberry and slightly shape it into a beard at the front
Place the top of the strawberry on top of the cream
Place the chocolate melts on to the cream in the position of eyes
Be sure to keep this dish refrigerated until just before serving.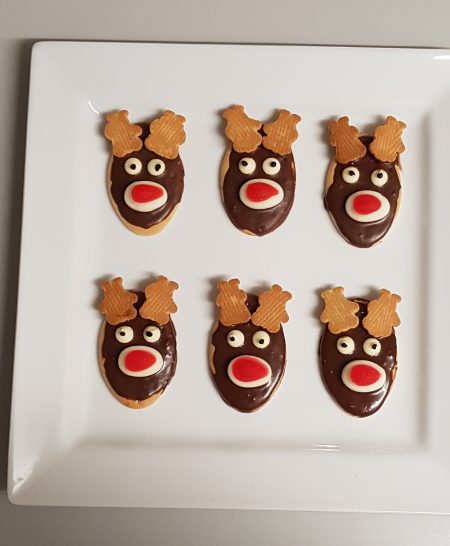 Reindeer biscuits
Reindeer biscuits are always a hit at Christmas parties and are fun to make.
What you will need:
Arrowroot biscuits
Icing sugar
Cocoa powder
Strawberry and cream lollies
Honey flavoured tiny teddies
White chocolate melts
Black writing icing, (you can also use melted chocolate)
Sift icing sugar and cocoa powder into a bowl, add water and mix to make a thick icing mixture
Ice each biscuit with the mixture
Add a strawberry and cream lolly sideways to make a nose
Add two melts to make eyes and draw on eyeballs with the writing icing
Add two tiny teddies with the back facing up to the top of the biscuits to make antlers. Hold down until they are set.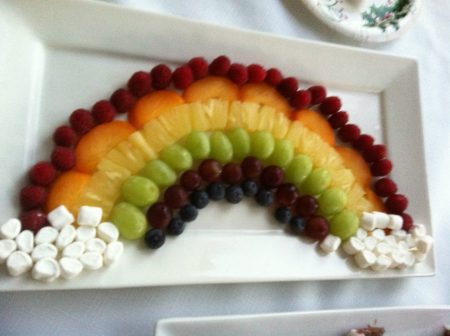 Rainbow fruit platter
This is a lovely healthy alternative to the many dishes that you find at Christmas functions and it's so easy to make.
What you will need:
Raspberries
Peach slices
Pineapple pieces
Green grapes
Purple grapes
Blueberries
Mini white marshmallows
Place all of the fruit in arched rows to the shape of a rainbow, (You can use any fruits of any colour)
Add marshmallows to the ends of the rainbow in a cloud formation.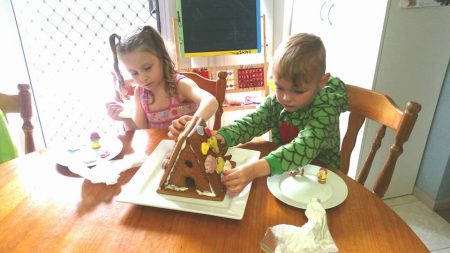 Gingerbread House
This is one of my favourite Christmas experiences. Whilst you can make your own gingerbread house from scratch there are many pre-made gingerbread house kits available. My children anticipate making one every year and then I can take it to a Christmas party to share with everyone.
What you will need:
Gingerbread pack
Egg or icing sugar
Candy for decorating
Whisk egg or sift icing sugar in a bowl and add water to make a thick icing mixture
Follow directions on the gingerbread kit as to how to put it together and use whisked egg or icing sugar to stick candy on to the house
Decorated as creatively as you would like.
You may also like to read:
Avoiding the Christmas Rush when shopping for your Children
Christmas-Themed School Holiday Fun!