Winter can be really tough to keep the kids engaged and entertained, it's a long three months relegated to the indoors once again.
Creating a winter wonderland at home to keep your kids busy and creative is possible with these 6 Art activities. Dive back into your craft cupboard for some paper, colouring tools and maybe glitter for some snowflakes and enjoy the winter inside days at home.
You can find the full instructions, more activities, and free templates in the WINTER ART ACTIVITIY PACK by Mini Monet Art School here.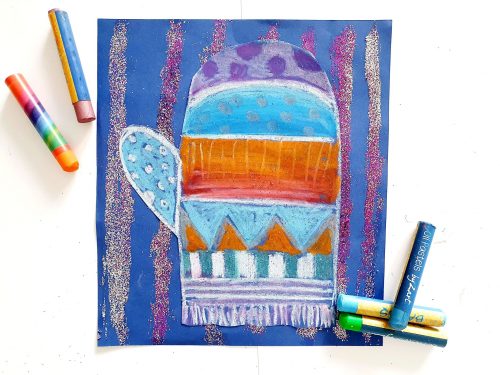 Winter Mittens
It's the time of year that we are all pulling out our beanies, gumboots and winter mittens! Mittens are a simple shape to draw and can be "dressed up" with lots of colourful patterns, lines and shapes. You can use any paper and colouring tool for this artwork. I used blue paper and oil pastels to create my mitten. Draw a mitten in the middle of page with white oil pastel, if you need some help you can find a template in the WINTER ART ACTIVITIY PACK. Then fill your mitten with stripes, zig zags, dots or any type of colourful pattern – the brighter the better! On another piece of paper use colouring tools or glue and glitter to create some snowflakes or stripes. Cut out your mitten and glue it on top. I love using glitter for winter scenes to create a bit of sparkle.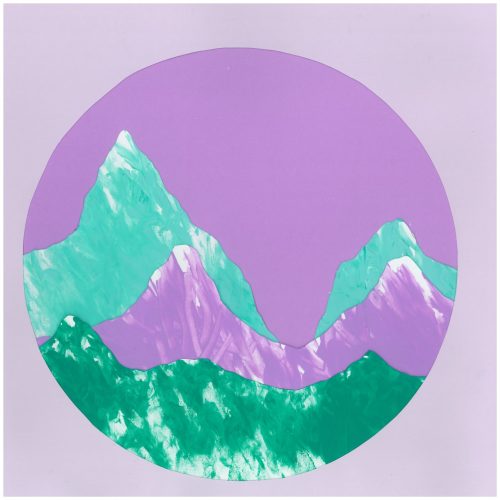 Painted Mountains
This painting project is one that will have you coming back again and again to make more. It is incredibly simple, but SO effective. All you need to do is cut three different sized mountains, small, medium and large. You can draw your own or find a helpful template in the WINTER ART ACTIVITIY PACK. Cut the mountains out and paint each one a different colour. It works well to use similar colours that vary from light to dark tone. Once they are dry glue each mountain on top of each other to create layers. Find a piece of coloured paper to use as a background. And finally cut a circle window to glue on top for a fun frame.
Splatter Paint Wintery Scene
There is something about flicking paint and watching it splatter across the page that is so fun for kids! Creating snowy winter scenes is perfect for this. You can find some templates for a fox, tree and house in the WINTER ART ACTIVITIY PACK. Cut out these motifs from coloured paper and glue to black or blue card. Add little details like windows and doors for your house or some triangle mountains. Have your paint brush ready with some white acrylic to make some splatter snow. Hold your paintbrush over the artwork and tap, tap, tap to make some snowflakes all over the top. It is a good idea to lay down some newspaper to catch the splatters too! Next use a large paint brush to paint a snowy ground. For a fun finishing touch add fingerprints to create some footprints and smoke coming from the houses.
Hot Chocolate
It's the time of year to warm up and have a huge mug of hot chocolate. It'll be worth hosting a hot chocolate party when you create these bright, patterned artworks inspired by contemporary artist Heather Galler. Using a king size sharpie marker to draw thick outlines makes this artwork a very simple and successful project for kids any ages. Find the template in the WINTER ART ACTIVITIY PACK and start by drawing a mug and saucer in the middle of the page with a sharpie. Next add a checker tablecloth and some lines for hot steam. Then add some bright colourful patterns to your drawing with crayons or oil pastels. You can finish it off with a layer of watercolour paint if you want.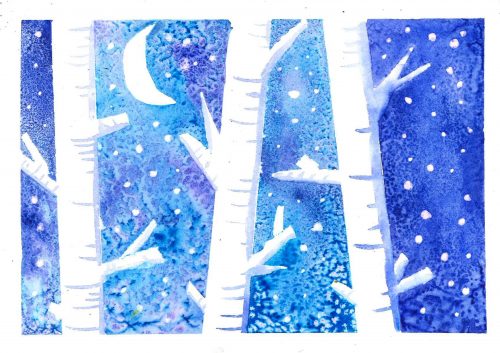 Snowy Birch Trees
If you have ever seen these trees on a wintery night you'll know that their white papery bark seems to glow in the dark! To make sure our trees stay bright white we will use masking tape to create them. Start by sticking masking tape to page to create each tree. You can use little ripped tape pieces as small branches and a moon. Paint a night sky over the top with dark blue watercolours. Adding a sprinkle of salt will create a beautiful speckled texture, then leave to dry. Dust off the salt to reveal a bluey-blend of colours left behind. Now it's time to remove the masking tape, you should see a crisp white birch tree underneath! To finish off this wintery scene add some blue paint stroke details to each tree and some white paint for snow.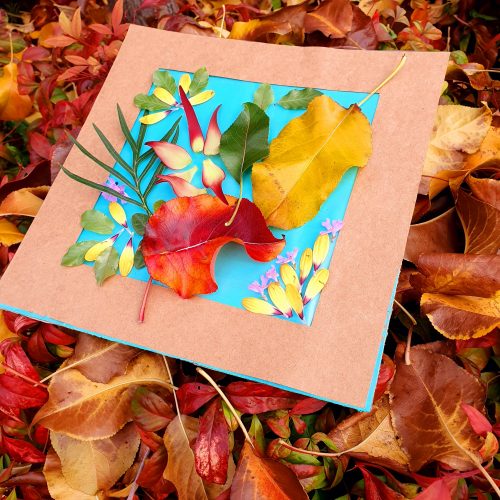 Winter Nature Art Catcher
Even though the colourful roses can't be found in our gardens during winter, there are many golden leaves and ever-green plants that are just as beautiful. This is a great activity that includes getting out of the house and collecting nature finds on your walk. To make your nature art catcher cut two large squares from cardboard. Stick double sided tape to edge of one square. Place a piece of clear contact the same size on top of the square with the sticky side facing up. Cut a window out of the remaining square cardboard and place this on top as if it creates a frame. You will now have a sticky "catcher" to place leaves and flowers from your walk.
 Georgie Doherty is a qualified art teacher, educator and mum based on the Mornington Peninsula. She is the founder of Mini Monet Art School, a brand-new sensory program designed to help mums engage with their babies through art and play. Georgie is also mum to Eve, a one in a million baby who was born with a rare genetic condition called Interstitial Lung Disease and severe Pulmonary Hypertension. She is an advocate for lung research and awareness, hoping to inspire others with her story and journey into motherhood.
Georgie hosts a Stories + Art Series at Mornington Library for children aged 3-6 years, drawing inspiration from famous children's books to create beautiful works of art.
I: minimonet_with_georgie
F: @minimonetartschool
You may also like to read:
10 Play Ideas to Beat the Winter Blues