Media kindly brought to you by U. Games
We know that kids learn through all forms of play, but not all games and activities are created equal. Faced with a plethora of games on the market, how do parents and caregivers choose between them to find something fun that is also educational and aligned with childhood development principles? With the help of our friends at U. Games, we've hand-selected some sure-fire winners that emphasise the entertainment factor without sacrificing meaningful learning opportunities. Whether you've got a preschool, school-aged, or even a teenage child, we've got you covered – let's take a look at some potential new family favourite games for 2021.
First 100: Toddlers & Preschoolers (Ages 2yrs+)
Parents may be familiar with the popular 'First 100' book series by Roger Priddy that introduces toddlers to key concepts and words through bright board-based books. Each book has 100 colour photographs to visualise and verbalise, along with 100 simple first words to read and learn. UGames' series of 'First 100' games takes this experience to the next level as kids engage in hands-on learning activities based on exploring word relationships and sorting into categories.
Although toddlers begin to naturally categorise objects around them according to basic attributes, there are many activities parents can initiate to fasten the pace and provide structure to this foundational skill. Did you know there is a sequence to categorising objects, and that it can give the green light for other skills? The art of classification is considered a pre-number learning concept. "Children need to learn how to sort and classify before they are able to move on to work that involves numbers, because they need to know what they are counting, before they are able to actually count them" (Reys, et al., 2012).
In this way, the First 100 Activity Game is the perfect anchor for preschool learning and follows educational trends relevant to today's curriculum; teaching an abundance of skills including vocabulary, counting, shapes, and many more. It involves placing object cards around the room, rolling either supplied die, then looking for either the matching category card or the number of cards. Toddlers identify words on the cards as they collect them, and are introduced to simple counting, social skills, and their first words. Parents and caregivers can get in on the act by asking children to find objects and giving hints along the way.
Why you'll love First 100:
Supports fine motor skills.
Encourages social interaction
Prepares children for school
Dog Man: School-Aged Children (Ages 5yrs+)
A literary influence is always welcome in gameplay, as it can serve as an entry point to encourage the hobby of reading, or work to reinforce your child's love of any given book series and even prompt them to explore it further. This is a core premise for U. Games' range of board games, card games and puzzles based on the #1 New York Times bestselling comic book series 'Dog Man' by Dav Pilkey (author of the equally popular kids' books 'Captain Underpants'). With over 36 million copies sold globally, Dog Man features a hero who is part dog and part man, with a nose for justice.
The appeal of comic books is that they make characters and concepts come alive and offer more point of view than text alone in understanding a narrative. Packaging this into game form takes this a whole step further. For instance, the 'Dog Man – Attack Of The Fleas board game' incorporates characters and themes from the series. The aim of the game? Top the wicked of the Stop of the FLEAS (Fuzzy Little Evil Animal Squad) who plan to take over the world with their Robo-Brontosaurus. Jumping into action as Dog Man and his 'Supa buddies', players stop the Fleas by working together and using special tools.
Why you'll love Dog Man:
Focuses on cooperative game play instead of traditional 'single winner' style play, to encourage teamwork.
Features non-linear game play to inspire 'out of the box' thinking.
5 Second Rule: School-Aged Children (Ages 5yrs+)
Contrary to what might be your first impression, this rule doesn't refer to how long it's 'safe' to eat an item of food once it hits the floor! Rather, it refers to the premise of a game that challenges players to think fast and talk quick. The rule of the game is to name three things (in a defined category) in 5 seconds flat! Easy, right? You'd be surprised! This simplistic game play supports general knowledge and fast thinking through memory recall, which is crucial for school aged children, not to mention adults who could also benefit from some brain training to stay sharp.
The practice of memory-based activities beyond preschool age tends to get overlooked, which is a shame when you consider that exercising one's memory enhances other brain functions including attention and concentration, which are obviously key skills parents want to cultivate in their kids!
Memory games and activities utilise – and by extension – improve short term memory, and it's been proven that the ability to move things from your short-term memory into long-term will improve learning in other areas. 5 Second Rule gameplay draws from both of these memory faculties, and best of all, it happens in an interactive, social way.
Why you'll love 5 Second Rule:
Trusted brand with addictive gameplay loved by families all over the world
Test memory and recall.
Finetune their vocabulary and verbal skills
Balance their creativity and imagination
376 Question Cards for maximum replay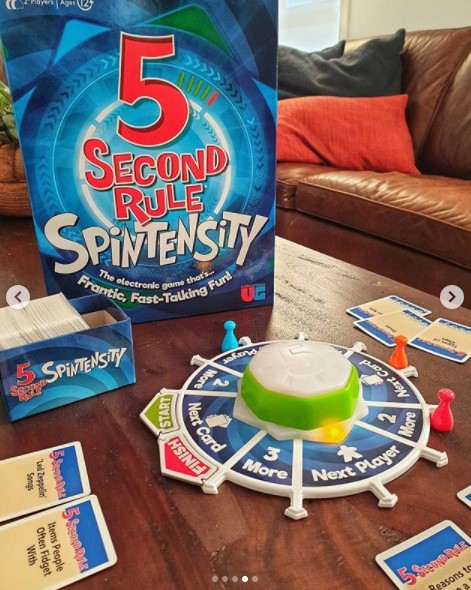 5 Second Rule: School-Aged Children (Ages 5yrs+)
It can be tough to engage older kids and teenagers when they think they're 'too cool' to play games with their family or have outgrown a game's level of complexity. It's really no surprise, when we consider that at approximately 11 or 12 years of age, children enter the 'formal operational' period of learning whereby they adopt an understanding of abstract concepts and apply fully-fledged logical reasoning. Sustaining their mind involves more sophisticated gameplay that moves at a quicker pace and is embedded with critical thinking.
Cue the newly released 5 Second Rule Spintensity, which takes a family favourite and adds an electronic spin feature plus additional tasks, to add an element of unpredictability and an extra challenge. Like in the original game, you gotta name 3 things, but you've got more time now … maybe! The new random timer is going, going, and you never know when it will stop! Hurry to name three things, then spin to see what you have to do next: name MORE things, draw another card, or pass to the next player.
For the full range of U. Games board games, puzzles and activities that will supplement your child's learning at home or at school, visit their website.