Do you love road cycling, mountain biking, Spinning or simply enjoy a leisurely bike ride on the weekends? Then Camp Quality kids need you!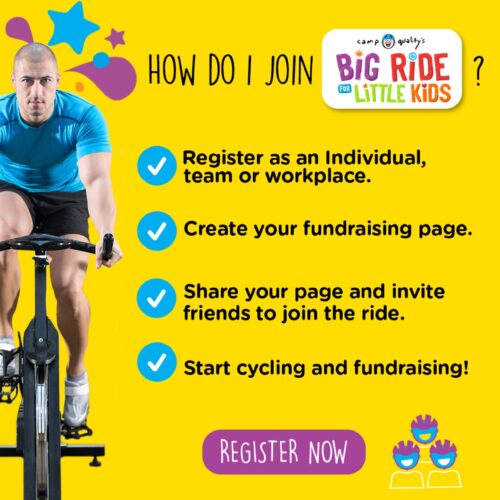 Camp Quality has launched its inaugural Big Ride for Little Kids, a virtual cycling challenge which asks everyday cyclists to ride 50km, 100km or 150km from March 1 – 14 to fundraise to give children dealing with the trauma of cancer the chance to just be kids again.
Australians anywhere can get involved in many ways, on the road, in the gym, as a family, or even part of a virtual team.
Participants can set their own target and track their kilometers using their Fitbit or Strava and connect their app of choice to their online fundraising page.
It's the perfect opportunity to get kids involved and active. Why not make a family team and track your kilometers together? Not only is it a great way to get kids active outside, but they will be learning a valuable lesson about giving back.
Camp Quality Mum Verne says that Camp Quality has changed their lives.
"Camp Quality has done so many amazing things for our family as we went through chemotherapy. Firstly, they did a puppet show at my child's preschool so that he still had friends, despite losing his hair. They have taken our family away on Family Camps and Family Fun Days, allowing us to meet other families going through the same thing, making us laugh and giving us precious family memories. They took my son on his own camp where he loved making friends with other kids who had also gone through chemo." Verne – Camp Quality Mum
Funds raised from the Big Ride for Little Kids all go directly to helping Camp Quality provide these vital programs.
So what are you waiting for? Get a head start in 2021, make your RPMs count and put your heart (rate) into it. To register for Camp Quality's Big Ride for Little Kids go to www.big-ride.org.au.