Trigger: This article deals with the experiences of pregnancy loss.
It's the club nobody wants to be a part of and it can often be treated a bit like a secret society – a taboo that should be spoken about in hushed reverent tones.
There is also a certain element of shame even that can surround it, though of course there is absolutely nothing to be ashamed of at all. After all, it affects 1 in 4 pregnancies and yet the stigma surrounding pregnancy loss continues even today. 
This needs to stop. 
On October 21st, 2014, while attending a routine obstetrician appointment, I discovered that my tiny baby, who had up until that point been steadily growing in my belly, had died. 
I say died because I had seen and heard my baby's heartbeat not three weeks prior and so when the doctor was no longer able to detect that heartbeat it was then that I had to reconcile that my little baby and all the plans and potential I had for their future was gone. 
It's hard to explain what went through my mind at that point. I had spent three long months with severe Hyperemesis Gravidarum. I had been hospitalised for dehydration and even though that was all beyond debilitating at least I knew my pregnancy was 'safe' – or so I thought. 
I had also had a dating scan at around 8wks which produced a tiny but strong little heartbeat, fluttering away. 
It was with all this reassurance in mind that I attended my first scheduled appointment with my obstetrician. The words 'I am concerned' still ring in my ears, the sinking feeling in my stomach, the expression on my husband's face, I felt as though I was spinning in circles unable to find purchase in what was going on around me.
I remember calling my Mum, who had my 1 year old in her care and being very matter-of-fact and succinct about everything. I was in damage control and I was not going to break, not yet.
We were seen after-hours by the head of the women's ultrasound clinic at the private hospital, amazing the strings that can be pulled under strained circumstances…
'I'm so sorry, your baby doesn't have a heartbeat.'
And with that, it was all over. That was it, all hope I had held on to was gone.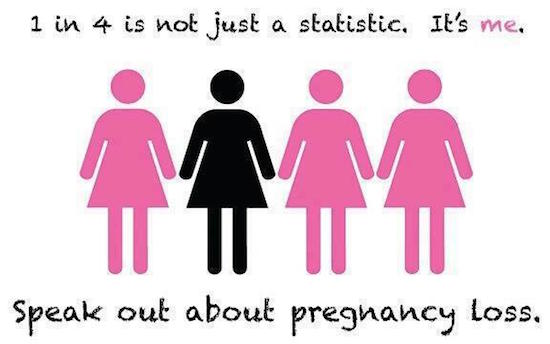 It's been three years now and all I can see when I remember that day is the projector screen in the ultrasound room with the image of a baby lying on their side. The outline of their head, their body. It stays with me even now.  
I went home and, as prescribed by my doctor, had a large glass of wine before returning to hospital the next day for a D&C. A horrible procedure where I woke up from my anaesthetic to the devastating realisation that just like that, I was no longer pregnant. 
 I was heartbroken. 
Over the following days and weeks my friends and family were a Godsend. It's funny, usually people follow a 12 weeks of silence rule just in case something goes awry with the pregnancy, however my husband and mother had been so excited that they had already told everyone they could find. Despite my initial reservations about this, in doing so that in fact meant that I had the support of those who also knew about our personal tragedy.
This proved to be invaluable.
So deep runs the stigma surrounding pregnancy loss though that I felt undeserving of the flowers and support we received during that time. I was of course beyond devastated, I didn't think I could even contemplate going through that again to give our son a sibling but I still felt that others must have thought me a dramatic fool for how I dealt with the loss. 
The truth is though, loss is loss and nobody can tell anyone else how they should feel about it.
For me, seeing my perfect child after carrying him through pregnancy and then watching him grow in his first year of life made it all the more real to me what I had lost. It was the loss of potential that burned through me like red hot poker. 
It was a particularly difficult period to navigate afterwards though because people can say some fairly tactless things. It can be truly challenging to know the right thing to say because there often isn't one right thing for each person and while I appreciated the sentiment offered when people said that it wasn't meant to be, it unfortunately offered me very little comfort. Being told that at least I already had a healthy child, which of course I was more than grateful for, also failed to ease my grief at the time and when my GP used the words 'product of conception' in my presence I really struggled to refrain from commenting.
Just to simply know that people were thinking of us and recognising our loss was worth more than any cliché they could offer.
Throughout all of this I found myself needing to validate my baby in any way possible. I needed to make sure that their life, while short, was acknowledged. 
That those fleeting three months of existence meant something. 
I had a little wooden keepsake box made and packed it with the sweet outfits I had bought or been gifted plus ultrasound scans, sympathy cards etc. my baby was there and their memory preserved. 
I also write. I talk. I don't shy away from the subject. I do no favours to anyone by pretending that this didn't happen to me and I want any other mothers and fathers going through this to know that they aren't alone.
That club that nobody wants to be a part of? It's huge. Its numbers are vast and unrelenting. Many women have been members several times over and I admire their strength to go back again and again.
It is gut-wrenching enough to go through it once. 
Even going on to have a healthy baby afterwards, as I am grateful to say that I did, lends to a pregnancy now tainted with a level of guilt and anxiety which wasn't there before.
So, to those who have experienced pregnancy loss, you are not alone. I see you, I am here for you and there is an entire village around you to support you when you need it.
If you or someone dear to you has suffered pregnancy loss, you can seek grief support at:
Bears of Hope
1300 11 HOPE
Or to donate a bear to a bereaved family check out their website.
You may also like to read:
Struggling to have another baby? So was I and here's what I learnt.