by Susan Taylor
With Easter (aka the chocolate season) just around the corner, what better way to get little ones egg-cited about the magical holiday than with a few cute bunny tales?! Here are our top story picks of new and old favourites that the whole family can enjoy.
Bluey Easter – by Bluey
Who doesn't love Australia's most popular blue heeler pup? And this time it's Easter! Bluey and Bingo think the Bunny has forgotten them again until a clue takes them on an egg hunt… A fun Easter adventure for Bluey and her family in a gorgeous hardback book.
Ages 3-5. RRP $16.99 – Puffin
Run Bunny, Run! – by Matt Shanks
Oh no! Bunny is late to deliver her Easter eggs. And she keeps getting distracted along the way! Will she ever deliver her eggs in time for Easter morning? This is a beautiful hardcover book with hand-drawn and hand-painted watercolour illustrations.
Ages 3+. RRP $17.99 – Scholastic
Easter EGGstravaganza – by Roald Dahl
This bounce-along, read-aloud rhyming board book is a gloriumptiously mischievous celebration of CHOCOLATE, inspired by the wonderful world of the story master himself, Roald Dahl. It even has special shiny foil inside, and a surprise lift-the-flap ending… with BITE!
Ages 1-4. RRP $16.99 – Penguin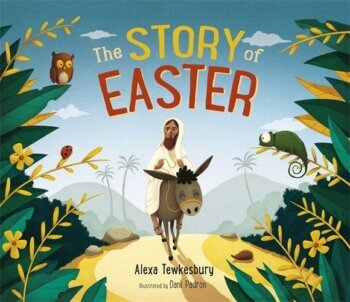 The Story of Easter – by Alexa Tewkesbury
Whether you're a religious family or simply want to explore the origins of the holiday with your child, this is a great retelling of the Easter story in a delightful picture book. Spanning events from Palm Sunday through to the last supper, crucifixion and resurrection, it's the perfect way to introduce kids to the Bible story that lies at the heart of the Christian faith with bright, colourful illustrations and different animals on each page, to help them gain a new understanding of why we celebrate Easter.
Ages 3-5. RRP $16.99 – SPCK Publishing
We're Going On An Egg Hunt – by Martha Mumford
Join the Easter Bunnies as they set off on an exciting lift-the-flap Easter egg hunt. With ten eggs to find and count, it's great fun but watch out for the obstacles along the way – lambs, chicks, bees and ducks – and there's even a wolfish surprise. Based on the traditional 'We're Going on a Lion Hunt' rhyme, it's a huge hit with fans of the classic We're Going on a Bear Hunt.
Ages 3-6. RRP $14.99 – Bloomsbury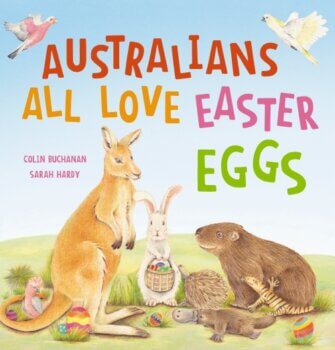 Australians All Love Easter Eggs – by Colin Buchanan
One for all the little Aussies! The native animals love doing an Easter egg hunt but the poor critters at Bunyip Creek never get any Easter eggs! It's just too hard for the Easter bunny to get there. Can the other Aussie animals help the Easter bunny make it to Bunyip Creek?
Ages 3+. RRP $17.99 – Scholastic
Peppa's Easter Egg Hunt – by Ladybird
Based on the hit animated TV series, this time Peppa Pig and her friends are going on an Easter treasure hunt set up by Grandpa Pig! Join Peppa, Rebecca Rabbit, and Freddy Fox in this board storybook as they search for delicious chocolate eggs and perhaps find even more surprises at the end of the garden!
Ages 2-4. RRP $9.95 – Penguin