Maintaining a healthy balanced diet over the Easter period can prove to be quite tricky. Supermarket shelves are stocked with all sorts of chocolate and sweet treats which makes the temptation to overindulge harder to resist.
Australian Health and Wellbeing statistics show that obesity affects 1 in 4 Aussie children and adolescents which means that, now more than ever, finding healthier alternatives to much loved food is vitally important.
One way to ensure your family is getting the right amount of nutrients over the Easter period is to swap to homemade alternatives of everyone's favourite Easter surprises. The best thing about making your Easter treats at home means you know exactly what is and isn't going in to them, as well as the fact that you can the whole family involved in making them! Some of our faves include:
Image by: Choosing Chia
Chocolate bark 
1.Melt down some chocolate of your choice (Milk, dark, white) and pour in to a baking tray.
2.Chop up your toppings while chocolate is melting. You can use whatever you like here (dried fruits, nuts, seeds).
3.Sprinkle chosen toppings on top of melted chocolate.
4.Leave to cool and set at room temperature, or if you're in a rush pop in the fridge until hardened.
Tip: Chocolate bark also makes a great Easter gift or dish to bring to any family gatherings over Easter.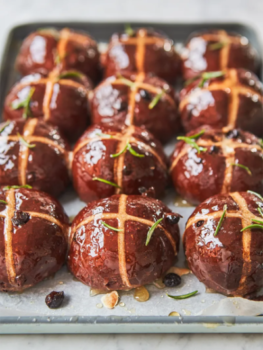 Image by: Jamie Oliver
Hot cross buns
Another Easter favourite that you can put a healthy twist on this Easter is the traditional hot cross bun! We're loving this Jamie Oliver hot cross bun recipe which is packed full of fruit and glazed with honey. We promise once you try this recipe you won't buy the store-bought version again. Add some extra fun to this recipe by using your kids initials on the top instead of a traditional cross!
Tip: These are best served still warm out of the oven!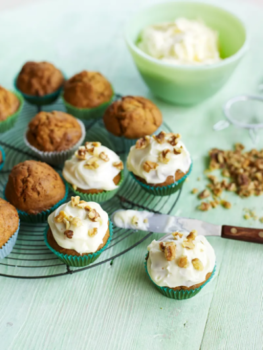 Carrot cupcakes
We all know that the Easter bunny gets his daily veggie intake from carrots and what better way to homage to the 'bunny of the hour' than making a delicious, nutritious treat from his favourite vegetable – Que Jamie's carrot cupcakes! These delicious treats are the perfect size for snacking and will be sure to impress anyone who tries them. Get creative with these and add some different food colouring to the icing to give them an extra cute and colourful Easter time twist!
To try your hand at cooking recipes like these Jamie's Ministry of Food's school holiday program is taking bookings for both face-to-face and online cooking classes. To find out more or to book visit: bit.ly/3xPnbTr