If you're a parent you can probably relate that most kids hate the thought of cauliflower, and getting them to eat it, is almost impossible. However, we've found 5 things you can create with cauliflower that will make your kids fall in love with it! Don't believe us? Give it a try, you'll be pleasantly surprised!
Buffalo Cauliflower wings
Cauliflower is neutral in taste, meaning it is easy to mimic anything you desire, even finger licking buffalo wings. It has a meaty texture, which has proven to be a great plant-based alternative to meat, full of flavour & bite. Buffalo cauliflower wings are fun to eat and look like nuggets! Simply, mix up some corn starch and mild spices like garlic & onion powder, salt and pepper, bake them up until golden and serve them with your favourite sauce.
Yes, you read it right, you can do more with cauliflower than just savoury foods. With more vegetable-based flours popping up, now cauliflower has made its way into our pantries in the form of flour! Try PomPom Paddock's Cauliflower Flour Mix, which contains all the nutrients you may struggle to get your kids to consume on a daily basis. It's a gluten free, wholesome cup for cup flour replacement, so it's perfect for baking all kids of sweet treats from, brownies, cookies, granola bars, muffins and the list goes on. It's versatile flavour profile taking on all types of flavours and your kids won't even be able to tell the difference.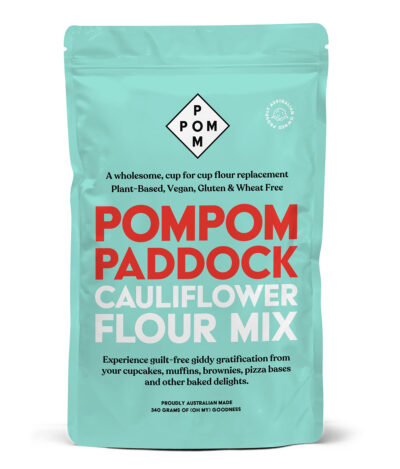 There is nothing more satisfying or delicious than making your own sausage rolls. If you're hosting a kids birthday party, rather than buying the frozen sausage rolls that are full of all kinds of things, try making your own. If you don't want to make the sausage mix, simply split open your favourite sausages and use that, and for the pastry, opt for PomPom Paddocks gluten free Cauliflower Flour, rather than regular flour.
As the saying goes, 'If cauliflower can become pizza, you too can do anything', and we couldn't agree more, the humble vegetable is a great alternative to flour, especially for those who have gluten intolerances. Rather than ordering a pizza, make your own and get the kids involved, by helping you make the dough and getting them to choose their toppings, it's a fun experience the whole family will enjoy!
Popcorn made with cauliflower florets, is a great and fun way to use cauliflower, and trust us, it tastes amazing, plus it's healthier than regular popcorn with added health benefits! It's also a great snack to have at a kids party or even as a lunch snack in their lunchbox. The entire family will also enjoy this recipe, made from only 3 ingredients, cauliflower, olive oil (or butter) and salt.
PomPom Paddock's mission is to create simple, delicious and nutritious, plant-based products that promote health & wellbeing.
Lorraine Sarayeldin is the founder of PomPom Paddock, a family-owned Australian business dedicated to creating simple, delicious and nutritious, plant-based products that promote health and wellbeing.
Lorraine made it her goal to feed her family with the most nutritional ingredients she could find and move more towards plant-based alternatives. She created PomPom Paddock, giving consumers the freedom to unleash their creativity in the kitchen and be inspired to make wholesome, sweet and savoury foods that both kids and adults will enjoy.
You may also like to read:
Spinach and Roasted Garlic Mashed Cauliflower