Since 2003 Natalie Bassingthwaighte's infectious charisma has shined a light on our lives in many ways, through our TV screens at home in her role as Izzy Hoyland in Neighbours and in fav shows including So You Think You Can Dance and The X Factor, she's rocked out the tunes as lead singer in the Rogue Traders or in glossy magazines.
Not only is Nat an Award Winning artist and an internationally recognised designer, entrepreneur and exceptionally discerning business woman with her uber cool, unisex monochromatic kids label Chi Khi she is also a loving Mum to her daughter Harper, 7 and son Hendrix, 4.
Above all Nat is just a gorgeous human, and we just love her to bits!
Today I'm lucky to grab 5 mins with the one and only, Nat Bass:
As a little girl I hear you used to charge 20c for family and friends to see you perform mini-concerts. Have Harper and Hendrix ever done anything similar and or do they have their mums performing streak in them?
My kids are so funny. They don't put on shows and charge but they do have great personalities. So different but just hilarious. The faces they pull and accents they come up with. It is never dull or boring in our house
What prompted you to start Chi Khi and what have you found parents love most about your eco-friendly kids range?
I couldn't find what I wanted in the market. Both my kids had sensitive skin and I heard that       bamboo fabrication was great. There wasn't any cool kid's clothes made from bamboo so I thought I would create my own. Bamboo is cool in summer and warm in Winter. It breathes. It feels           incredible. It has been compared to the feeling of Silk and it is so durable. Perfect for washing over and over.  We make our own fabrics.
What's been your highlight moments of being a Mum?
Just watching my kids overcome fears and seeing their personalities develop is something I don't take for granted.
What have you found the most challenging being a business owner/mother / wife? How have you overcome that challenge?
I won't lie, it is hard every single day. Some days I get it right and other days not at all!  It is a work in progress. I have been working towards a better work life balance.. I am getting there.
I hear whispers about your upcoming Spring summer range, can you tell us what to expect?

 
This range we introduce a touch of blue. There is a strong connection to graphic all over print. They say go hard or go home. I say dare to stand out. Go Bold or go home!
Do you have any tips and or advice for any budding Mumprepnuers out there wanting to start their own business?
Do your research. Knowledge is power. Ask questions and jump in!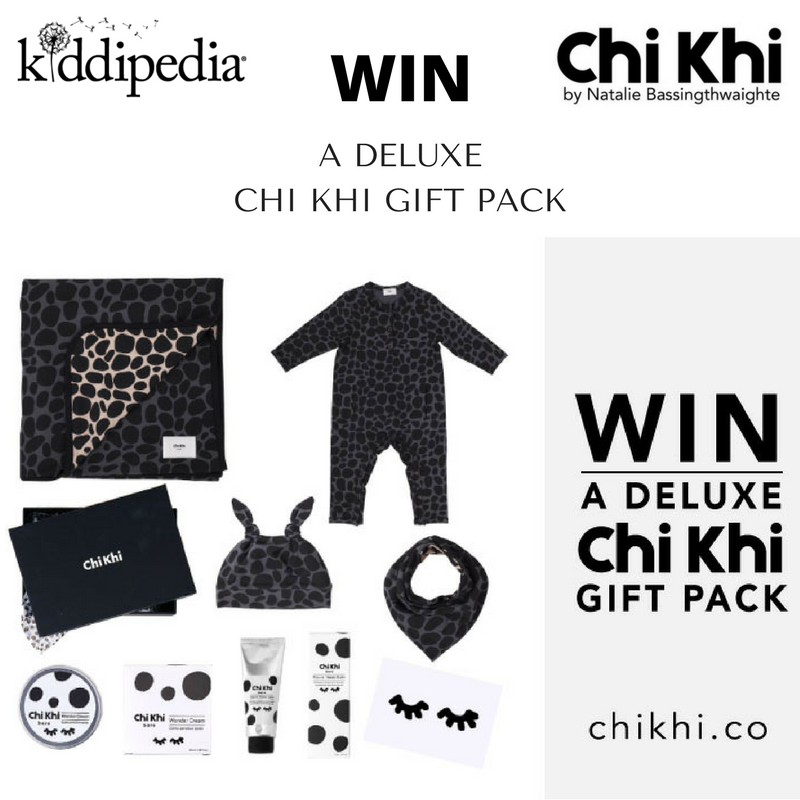 You can WIN a Deluxe CHI KHI Gift Pack from Nat's uber cool and playful monochromatic range of children's wear.
To enter click here tell us
"What is the Cheekiest thing your children have done?"
Good Luck!
You can check Chi Khi out: