Expert advice from Olympic Swim Coach and Learn2Swim Week Ambassador Laurie Lawrence
As we spring towards the hottest months of the year,  – more and more Aussie families are diving into backyard pools, but along with the fun of water play, keeping safety top of mind needs to be every parent's number one priority when it comes to young children.
With drowning the highest cause of accidental death for children under five in Australia, Olympic Swim Coach and Poolwerx Learn2Swim Week ambassador Laurie Lawrence has provided some of his top tips for keeping safe by the water.
Check your pool fence and gate
How well do you know the regulations surrounding pool fences? In Queensland for instance, your pool fence must be at least 1.2 meters tall and slatted fences cannot have gaps wider than 100mm*. Ensure that your fence receives regular upkeep and that there are no damaged areas that could be entered without supervision. There are also several safety requirements for your pool gate that you may not be aware of. Pool gates need to be self-closing and self-latching. Gates can not be propped open, even if you are in the pool area and must be regularly maintained in order to ensure they remain most effective.
Keep distractions at bay
When you are not using the pool area, be sure to pack away pool toys. Bright, colourful pool toys left floating in the water may entice young children to try and enter the pool area unsupervised, so make sure to keep toys stored away and out of reach from kids.
Moreover, make sure there are no climbable objects near the pool fence. Items such as chairs, tables, pot plants, trees and more can act as a ladder for young kids to scale fences without parental knowledge. This goes for inside the pool area too, as brave kids can (and will) reach out and pull items through the pool fence gaps to get a foothold on.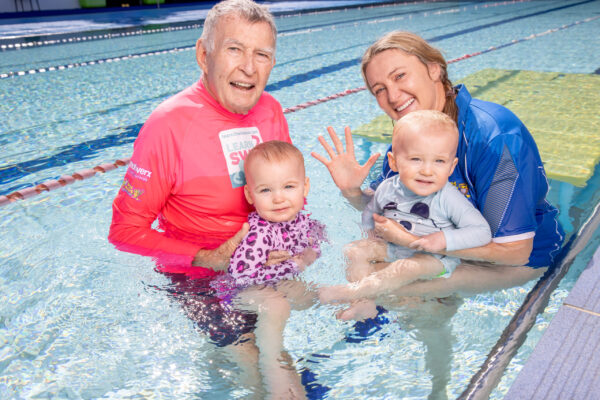 Enroll your child in swimming lessons
Preparing your kids to dive into Summer is just as important as preparing your pool. Children as young as four months old are able to learn life saving skills through supervised swimming lessons. From Friday 25 September to Sunday 4 October, hundreds of swim schools across the country will offer free swimming lessons to children under the age of five as part of Learn2Swim Week. Launched by Poolwerx and supported by Kids Alive, Learn2Swim Week aims to teach small children the lifesaving skills of swimming to help reduce drowning rates especially in children under five.
Should swim schools not be not open in certain areas due to the COVID-19 pandemic, a free class voucher will be issued, valid for 12 months. You can find your local participating school at www.learn2swimweek.com.
Assign someone to supervise and learn basic CPR
While pool safety is everyone's responsibility over the summer, assigning a friend or family member to watch over young and inexperienced swimmers will put parents minds at ease. Childhood drownings can occur in just seconds, so having someone responsible to act as another set of eyes can prevent these tragic accidents.
In case of an emergency, always have access to key signage around the pool area that highlights lifesaving techniques like CPR. Learning these basic resuscitation skills can be invaluable when acting in a moment of crisis and could one day save a life.
Launched by Poolwerx and supported by Kids Alive – Do the Five, Learn2Swim Week aims to remind Australians about both the importance of teaching children aged under five to swim and general water safety information ahead of the swimming season. During Learn2Swim Week the number of swimming lessons is up to each individual swim school. For more information visit  ww.learn2swimweek.com.
You may also like to read:
One step forward, two steps back – parents risk undoing progress with swimbreak