Christmas is a time for people getting together celebrating this festive season. Family activities and parties all scheduled within this holidays. If you are planning to throw a party or just attending one, here are some finger food ideas that can help you stand out.
We have collected some fun finger food ideas that are a mix of healthy, savory and delicious that you can try to make this coming season. Family and friends who will visit this Christmas will be delighted to taste what you have prepared for them.
They're one or two bite snacks that they can eat with one hand. I'm sure the kids will enjoy them too. Your guests will be attracted to the color and smell of these amazing finger food ideas that can be used as appetizers, party snacks, light lunch or dinner or just nibbles while having a good conversation.
So start deciding which ones you will try first and make for the family. You can also ask the kids to help you prepare. Let them do the easy task and supervise them with what they are doing. This activity will be a great way to have fun with your kids and an opportunity to spend quality time with them.
Here are our fun finger foods for you to enjoy.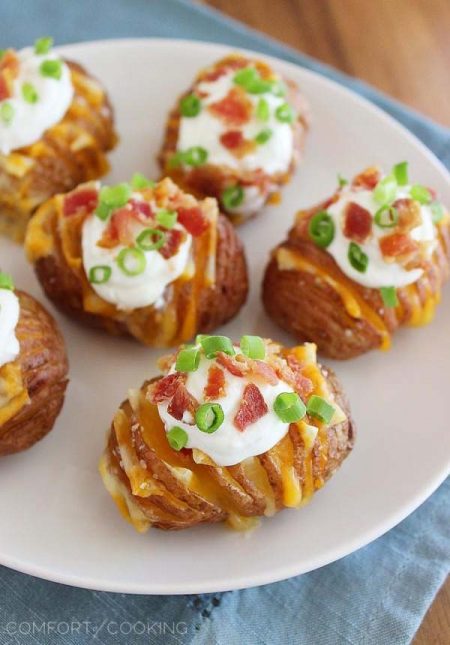 Crispy Loaded Hasselback Potato Bites
Tiny potatoes baked with cheese and sprinkled with sour cream, salty crumbled bacon and green onions.
Chocolate Covered Strawberries
Strawberries dipped in melted chocolate and decorated with colorful sprinkles or chocolate chips.
Bacon Wrapped Potatoes
Potatoes wrapped around with bacon and secured with a toothpick baked until crisp and potatoes tender.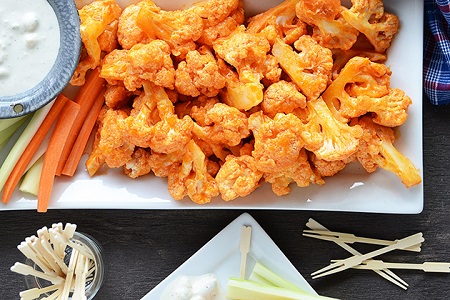 Cauliflower Buffalo Wings
Deep fried cauliflower covered in a batter made up of flour, milk and garlic powder. The sauce is melted butter and hot sauce cooked in a saucepan. Toss the cauliflower and sauce together and serve with a side of blue cheese dressing.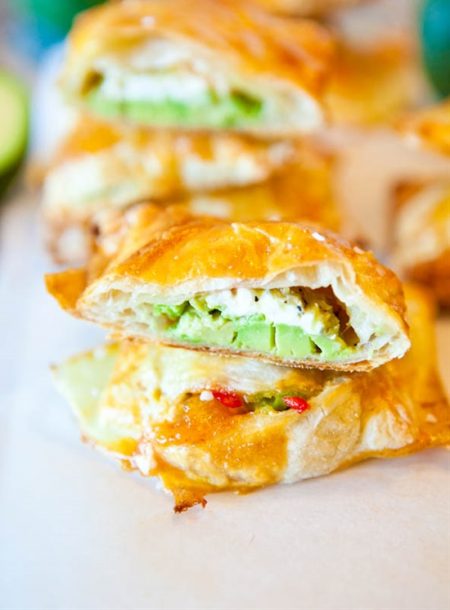 Avocado, Cream Cheese, and Salsa-Stuffed Puff Pastries
Bite-size puff pastries stuffed with avocado, cream cheese, and salsa.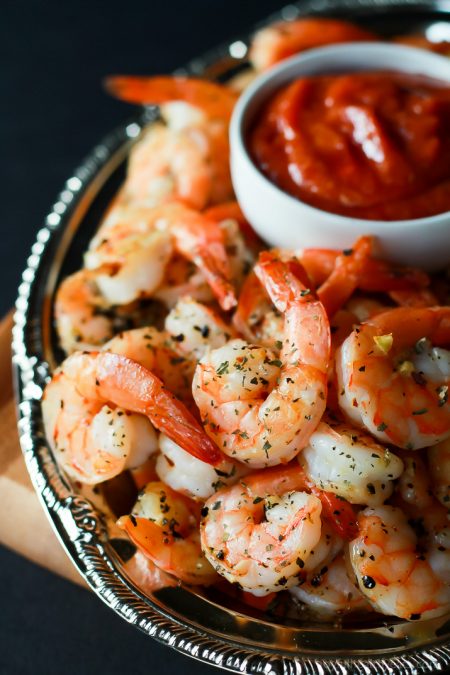 Garlic Herb Roasted Shrimp with Homemade Cocktail Sauce
Tossed with garlic cloves, red pepper flakes, basil, salt, pepper and olive oil, the shrimp is baked in the oven for 10 minutes. The sauce is a mix of ketchup and horseradish.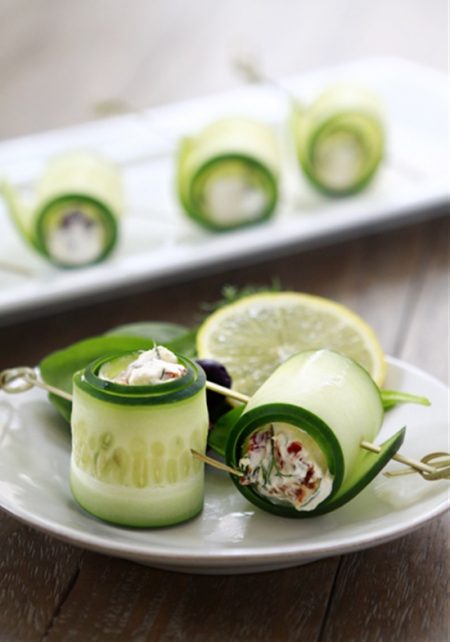 Cucumber Feta Rolls
Cucumber rolls stuffed combined feta cheese, greek yogurt, bell pepper, olives, dill, lemon, and pepper.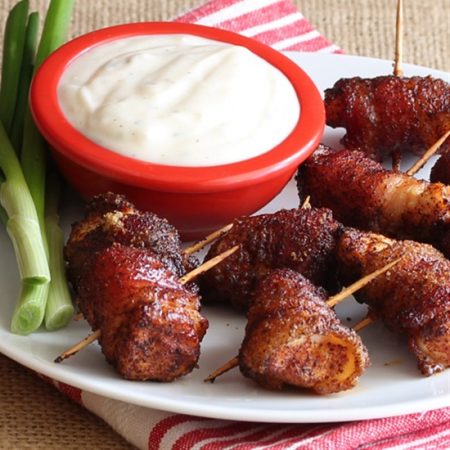 Sweet and Spicy Chicken Bites
Bite-size chicken wrapped in bacon and covered with a mixture of brown sugar, chili powder, and cayenne pepper then baked. Serve with ranch dip.
www.haverecipes-willcook.blogspot.com
Mini Cheese Ball Bites
A mixture of butter, cream cheese, lemon juice, Worcestershire sauce, hot sauce, ground pepper and cheddar cheese. Made into balls and covered with cranberries, nuts, parsley or green onion and a pretzel for the handle.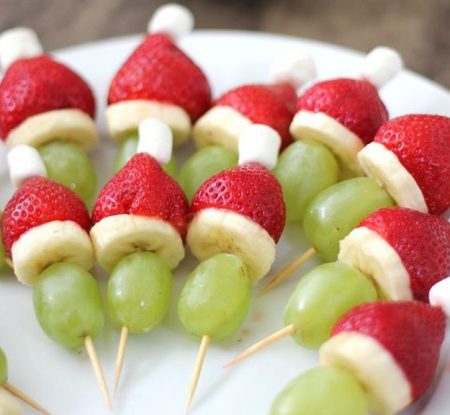 Fruit Kabobs
An easy to make fruit kabob made up of sliced bananas, strawberries, grapes and a small piece of marshmallow on the tip of the stick.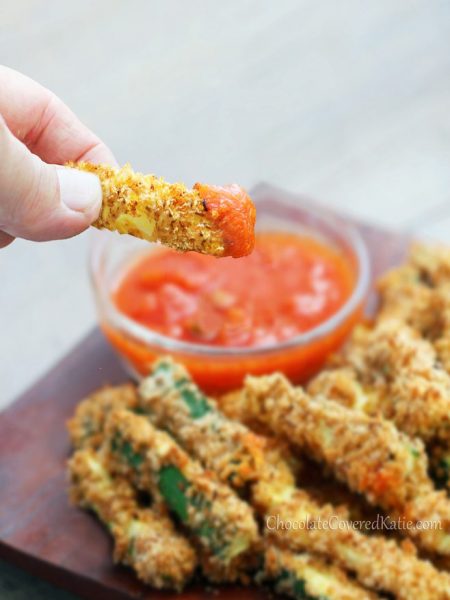 Healthy Crispy Baked Zucchini Fries
Zucchini slices covered with flour, some spices, milk, and breadcrumbs and baked until crispy.
www.chocoloatecoveredkatie.com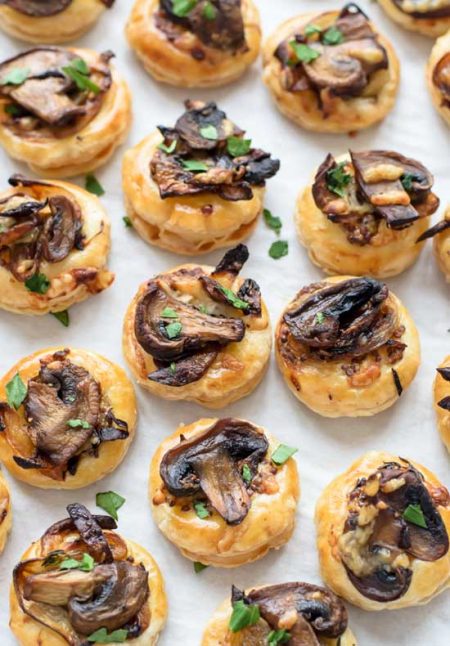 Cheesy Mushroom Puff Pastry Bites
Puff pastry bites with cheesy mushroom garnished with fresh parsley and serve warm.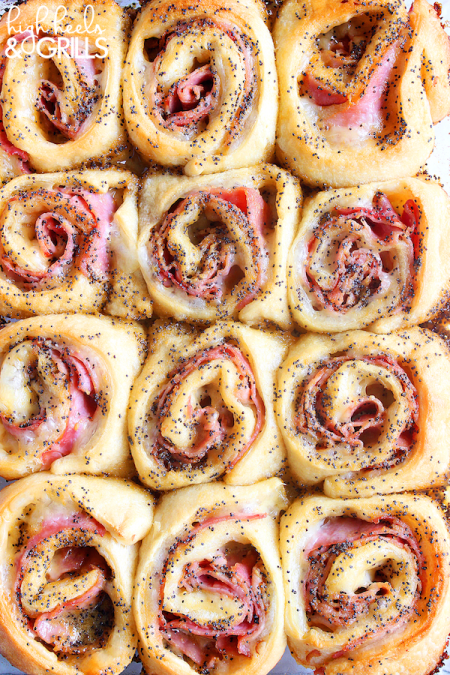 Baked Ham and Cheese Roll-Ups
These are made with crescent dough, ham, Swiss cheese and topped with delicious mustard glaze. Easy appetizer or dinner that is always a favorite.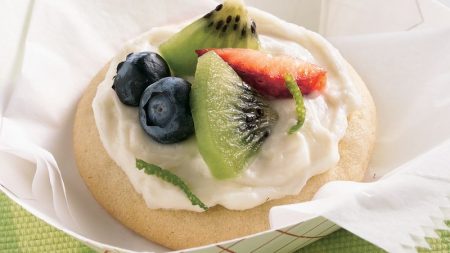 Mini Fruit Pizzas
Cookies topped with a mixture of cream cheese, limeade concentrate, and powdered sugar spread evenly. Arrange sliced fruit on top of each cookie. Refrigerate before serving.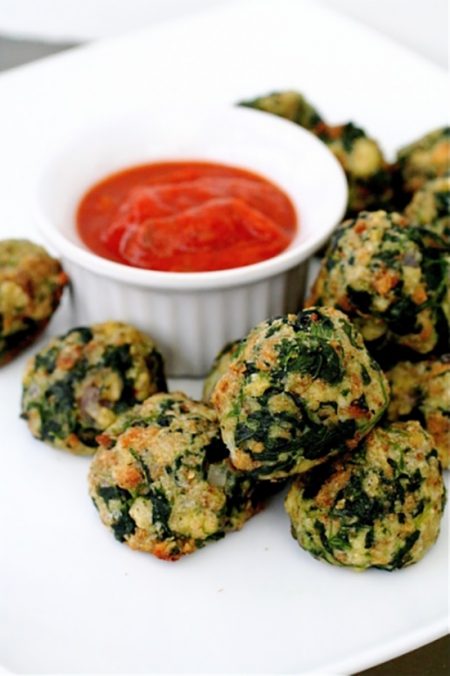 Savory Spinach Bites
This is made up of baked spinach, eggs, parmesan cheese, salt, pepper and cooked onions and garlic. This is usually served for your vegetarian guests.
Turkey Bites
Cooked turkey slices mixed with cheese, hot sauce, garlic, chili sauce, and dill. Baked in a dough brushed with egg wash and sesame seeds until golden brown.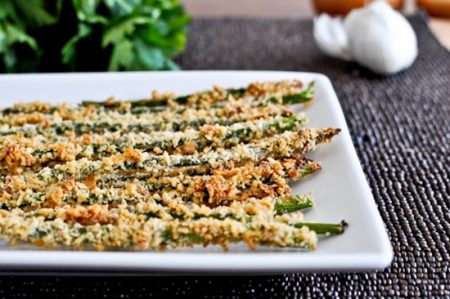 Crispy Parmesan Asparagus Sticks
Baked asparagus covered in egg whites, bread crumbs (seasoned with salt and pepper with flour) and cheese. Delicious and healthy too.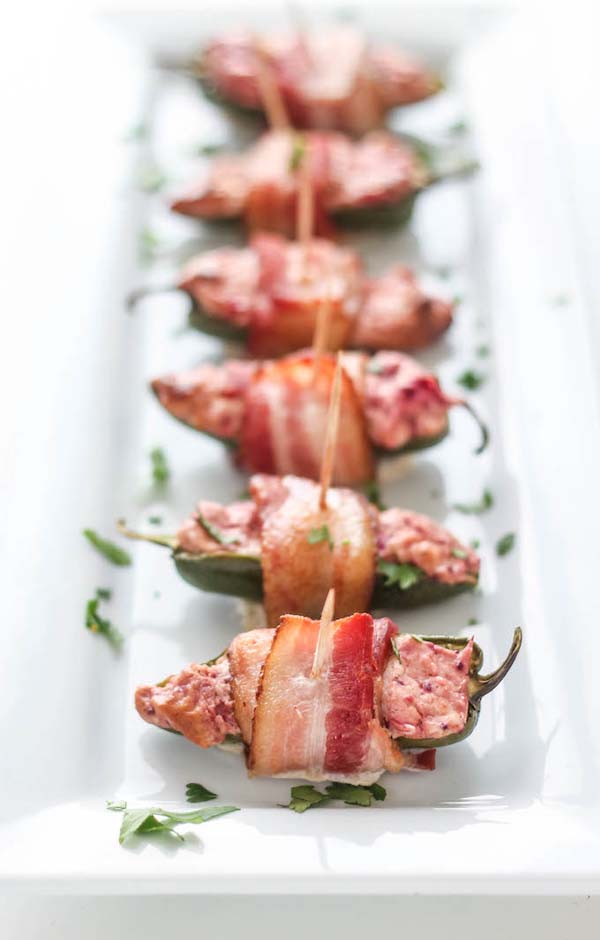 Bacon Wrapped Cranberry Jalapeno Poppers
Jalapeno baked with cream cheese, chili powder, cumin, garlic powder, onion powder and cranberry sauce wrapped with savory bacon.
Mini Crab, Spinach, and Mushroom Tarts
If you have love cooking and have the time then why not try to make this finger food made up of mushrooms, spinach, cheese, kosher and crab meat.
Taco Dip
A mixture of sour cream, mayonnaise, and taco seasoning. Spread refried beans, guacamole and sour cream mixture topped with cheese, scallions, and olives. Keep it refrigerated before serving.
www.abitchinkitchen.blogspot.com
You may also like to read: