Article attributed to Professor Jerome Sarris. N.B: Professor Jerome Sarris, an independent scientific advisor to Fiji Kava.
After a baby is born, new parents are sometimes shocked to discover how little sleep they get in the first few months. While parents gradually see improvement in their sleep as their firstborn grows, it seems their night-time rest is never quite the same again.
If you're one of the many parents facing continuous nights of unrest, then it may be time to seek some help. Without the proper amount of quality sleep, the brain can function poorly, bodies are fatigued, and moods can be inconsistent.
There are a wide variety of options, from prescription sleeping aids to bath soaks to bedtime tea, that may help you get a better night's rest. At times, pharmaceutical sleeping tablets come with a wide range of side effects and in some instances, have been shown to come with a risk of addiction. In my opinion, the Noble variety of Kava – used in a therapeutic dose – has the potential for far fewer adverse effects than other remedies; such as certain prescription medicines and alcohol, which individuals may commonly choose to use to relieve anxiety and stress.
People often think of kava as the bitter liquid water they drink on holiday in the South Pacific, however, that is a different experience of having it in a capsule form. The Noble variety of Kava is considered traditionally as the most pleasant and enjoyable, with the most notable effects. Research shows that this variety of Kava may be an effective solution for people experiencing general short-term anxiety, and this may be potentially beneficial for also improving sleep.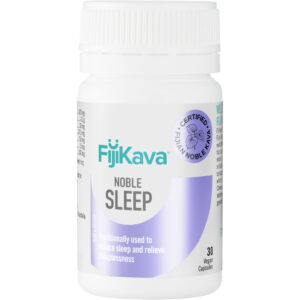 The Noble Sleep capsules combines certified Noble kava, which is traditionally used in Pacific Islander medicine to induce sleep, and Jujube, which is traditionally used in Chinese medicine to relieve sleeplessness and to support general health and wellbeing.
The cultivar which Fiji Kava uses in its products are of the highest standard and involves a pharmacy-level preparation of all materials. While there are a number of species of Kava – some are not the best to consume either medicinally or recreationally. Some types of Kava can cause a drowsy hangover
effect, whereas the Noble variety of Kava are considered to elicit the most pleasant effects in consumers. It is important if consuming Kava, to use the Noble type, which is exclusively what Fiji Kava uses.
People with insomnia often present with higher levels of stress and anxiety which can be reflected in a higher adrenaline and cortisol levels, causing them trouble relaxing and therefore, drifting off. Kava can have an effect in priming the GABA (gamma-aminobutyric acid) system, which is the inhibitory part of the nervous system, ultimately resulting in a relaxing and sleep-inducing effect.
Based on our data, Kava has shown an absence of any withdrawal effects, unlike other medications that may have that issue. Further to this, our research has shown that in individuals taking Kava in regular doses, there is also no indication of addiction to the supplement.
Kava can be considered as one of the potential beneficial options to reduce stress and anxiety and improve sleep. More than ever we need such therapeutic options in the tumults of today's world.
Jerome Sarris is an NHMRC Clinical Research Fellow and Professor of Integrative Mental Health at NICM Health Research Institute at Westmead, Western Sydney University. He also holds an honorary Principal Research Fellow appointment at Melbourne University, Department of Psychiatry. He has a particular interest in mood and anxiety disorder research pertaining to lifestyle medicine and nutraceutical psychopharmacology, and psychotropic plant medicine research (in particular on Kava, and medicinal cannabis). Professor Sarris has over 180 academic publications, including journal articles featured in The American Journal of Psychiatry, Lancet Psychiatry, JAMA Psychiatry, and World Psychiatry). He has conducted many RCTs in the field, including 3 recent multicentre NHMRC Project Grants as CIA. Professor Sarris was a founding Vice Chair of The International Network of Integrative Mental Health & is an Executive Committee Member of the International Society for Nutritional Psychiatric Research. He currently leads the LIFEMend Neuropsychiatry Clinical Trials Network, in addition to chairing the WFSBP Integrative/CAM Psychiatry Taskforce. Jerome has received previous financial honorariums from Fiji Kava for his independent scientific opinion.
Fiji Kava is a medicinal Noble kava company based in Australia, providing a natural solution to calm and soothe nerves, support muscle relaxation, increase mind relaxation and induce sleep. Fiji Kava is the first
and only foreign company with approval from the Fijian Government to operate in the kava industry and is the world's first listed kava company (ASX:FIJ). Widely recognised as supplying the world's most trusted Noble kava, Fiji Kava is now focused on bringing the secret elixir of Fiji's world-famous joyful, calm and relaxed culture to the world by distributing a range of scientifically researched, TGA and FDA compliant Noble kava extract products throughout western markets.
Containing certified Noble Kava, Fiji Kava's new range features three capsule variants; Noble Sleep, Noble Calm, and Noble Body, available to purchase at your local Coles.
You may also like to read:
Tips to help new mums get more sleep