We could wrap the world almost 4 times over with the amount of single-use wrapping paper we use every Christmas*! Not sure what to use instead? Here are some fresh, eco-friendly ideas.
Fabric
Most of us have some spare fabric lying around the house – from old tablecloths we don't use to shirts that are ready to be thrown out. Use them to wrap, and tear them up to make ribbons. Add some old costume jewellery to pretty it up. If you need some inspiration google 'furoshiki' – the Japanese have perfected the art of wrapping with fabric.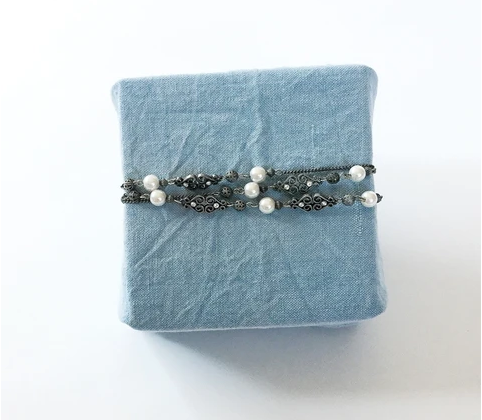 Fabric wrapping with costume jewellery
Santa sacks for the kids
There is a bit of debate around whether you should wrap the gifts that go into a Santa sack. Save some paper (and time) and leave them unwrapped this year. The kids will still get a surprise when they pull out their gifts and it is the gift that is the focus, not the wrapping!
Scarves
I know I have a big collection of scarves that I don't wear, but if you don't and this idea appeals you could check out your local op shops to create a gift wrapped in a gift!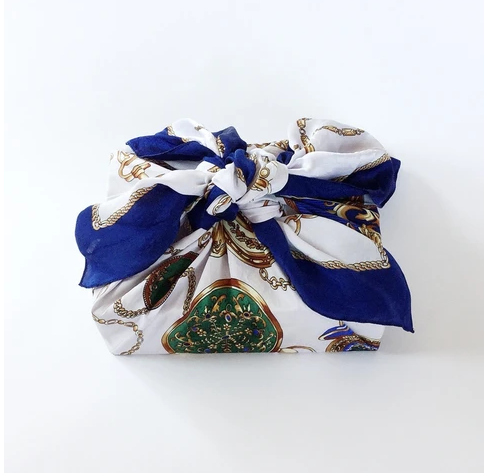 Gift wrapped in a scarf
Tote bags
You may have bought some things through the year that arrived in some sort of tote bag – reuse them! They can then be re-gifted again or used for shopping.
At Indigo Bay tote bags are one of our wrapping options – see here to order yours!
Newspaper and Magazines
We all get them, why not reuse them? You can pretty them up with ribbon or with string or try adding some beads or natural foliage from your garden.
Michelle from Eco Luxe Australia does this so well! She uses proof sheets from In Noosa Magazine to wrap her orders and they look amazing!
In fact, In Noosa Magazine are offering their press sheets for free to use as wrapping – all you have to do is go pick it up.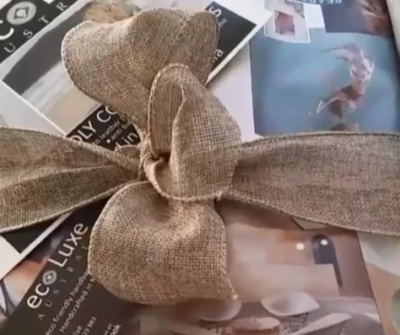 Credits for the image: Eco Luxe wrapping
Indigo Bay – Experiences, care packages, and gifts that connect, bring people closer together, help you to experience life, and create memories to last a lifetime. Our gifts are all sourced from small independent Australian brands with heart and soul and they bring joy and mindfulness back to gifting.