Media kindly brought to you by Bugaboo
Are you pregnant with twins? Or have your second or third child on the way? Whatever the circumstance, if you're about to become a family with more than one child then strap yourself in because things are about to get a little crazy!
Yes, it's true. Life is a lot busier and often more challenging when there are multiple children to look after, but luckily there are some ways to lighten the load for us parents. Of course, there are numerous new items you're going to have to invest in (such as extra car baby seats), but it's the other things you may not think about which can really help make your life easier.
Here are 5 essential items we recommend you get your hands on when your family is about to get bigger:
Bouncer or swing chair
How are you going to prepare lunch for your toddler when there's a baby in your arms? Or what do you do with one twin when you're changing the other one's nappy? The answer is a bouncer, or better yet, a swing chair that plays music and well, swings, for extra entertainment. If you don't already own one get cracking, trust us you won't regret it. The perfect way to keep bubs safe and entertained while you get stuff done.
Playpen
Similar to the above but for older children who are on the move and won't fit in a bouncer anymore. Playpens keep little ones safely contained while you have your hands full elsewhere, but you can still see and talk to them. You can buy all sorts of different playpens depending on your requirements, we recommend the ones that can be folded away when you don't need it. And just remember to pop in a bunch of toys and a sensory playmat in the middle so they have something to keep them occupied and make it feel less like a penitentiary!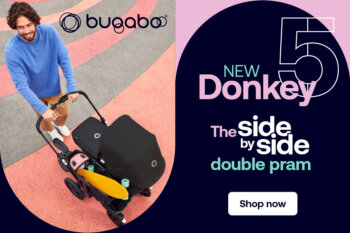 A versatile pram
Ok so this is a biggie which is why we've included it. If your family is growing you don't just need a larger pram, you need one that's versatile enough to see you through multiple stages and that also packs a punch. The new Bugaboo Donkey 5 pram is just what you need.
The latest version of this award-winning all-in-one pram lets you go from mono, to twin or duo mode in three simple clicks, so you can scale up or down the bassinets or seats as you need to, and siblings are able to sit side by side either facing parents or the world. So, you can use it with your first child and then expand it once the next one comes along or use with your first-born twins and then switch back to mono for the third child. A completely customisable pram to suit any family at any stage, it will still fit through a standard doorway plus has loads of storage space and a stack of extra new features and improvements such as the extendable sun canopy and ventilated peek-a-boo breezy panel to make transporting and exploring with your little ones even easier than ever before.
Suitable from birth to up to 22kg in each seat, it's so easy to use, super stylish and family future proof! Available online and at selected retailers, you can read more about the Bugaboo Donkey 5 extra features here at bugaboo.com.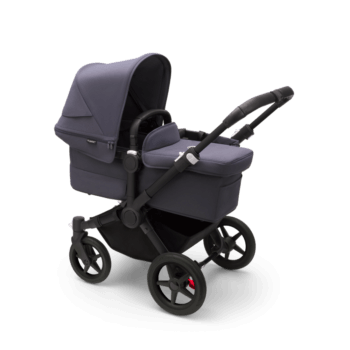 Noise / sound machine
Ok, so you might have children who can sleep through anything, but chances are you won't! And it's this reason why we're recommending to get a noise or sound machine so you can pop it in baby's room (or the toddler if they're being disturbed by the newborn crying). Trust us, you don't want anything to jeopardise children not getting enough sleep because with more kids comes even less sleep for you and the last thing you need is more disrupted nights and overtired babies! Sure, you can also use white noise apps and gentle music on your phone when the kids are asleep, but then it kind of makes checking Instagram and making calls a bit tricky doesn't it?
A new nappy bag
And how are you going to fit all those snacks, nappies, toys, changes of clothes, bottles and goodness knows what else in your nappy bag when you've got more than just the one child?! The answer is you're gonna need a bigger bag. And when we say big we don't necessarily mean larger in size, but a bag that is smart about storage – and that looks nice too! There are so many on the market now so shop around and look for one that has lots of extra pockets and compartments for the different baby needs, plus your own.
So, there you have it. Just a few top items we recommend you get to help your growing family on their way! And remember it's not all bad, extra kids also means extra love!