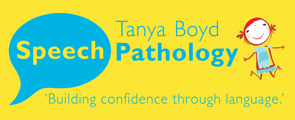 my Qualifications
I am a Certified Practicing Speech Pathologist and a member of Speech
Pathology Australia. I have also completed a post graduate diploma in Early
Literacy Intervention.
my Experience
I have spent most of my time working with school age children across all sectors of education in both schools and in a clinical setting. I am passionate about
working with children, their families and their schools to assist and facilitate the development of their communication needs improving their overall learning outcomes.
my Services
Referrals can be made for assessment or intervention in the following areas:
Articulation
Oral Language
Literacy
Fluency
Voice
Childhood Apraxia of Speech
Pragmatics
Click "Visit Website" for more information or check out our new videos
here http://youtu.be/wNlAaFjHcUw and here http://youtu.be/aT5zQ7Ew-I0
Tanya Boyd Speech Pathology
Contact: 0407 554 070
1/6 Hotham Road, Niddrie VIC 3042
Contact: 0407 554 070
Website: http://www.tanyaboydspeech.com.au/