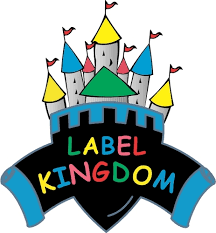 We are an Australian family business established in 2005 with the purpose of providing high quality personalised Labels at affordable prices. All our personalised Labels are manufactured right here in Australia to the highest standards & quality we would expect ourselves.
As Parents ourselves, we completely understand the need to provide Labels that are not only stylish but practical too. Our Labels undergo extensive testing prior to being launched for sale to ensure they meet our top 3 priorities:
·         can be used with ease;
·         are practical, kid tough;
·         & most importantly, work!
Thanks for stopping by!
We have a host of children's label stickers available in several sizes and shapes. From traditional and simple kid's name stickers to more serious allergy alerts, you can get it all from Label Kingdom. We offer bright colours and fun shapes with our kid's name stickers, and our selection ensures that you'll find exactly what you need. All our name label stickers are 100% waterproof and dishwasher safe, this makes them perfect for drink bottles and lunch boxes etc. They'll stay stuck for years.
We have a selection of kid's luggage tags that allow you to put your child's first and last name on the tag. We have 23 different personalised bag tags available for both boys and girls, and they range from seasons and patterns to monsters and wizards and everything in between! They're durable as well, and they withstand wear and tear without wrinkling, tearing or scuffing.
Make your kid the star of their school year with our kid's school accessories. We have everything you need to outfit your kid for their back to school experience to make it a fun and memorable year. Our durable school supplies for kids can last throughout the year as well!
It's never too early for your child to start learning, and Label Kingdom's children's educational toys have something for everyone to enjoy. We make it easy to buy play school toys to inspire a love of learning that'll carry throughout your child's life. Our goal is to make learning a fun process, and we do this by offering bright and fun kids learning toys online.
We offer several first-writing and first-word books that encourage your child to read and speak form a young age, and our chunky puzzles challenge their spatial skills. They're large enough to be fun, and the construction and zoo pictures will captivate your child. Also, they can grow with your child and continue to provide a fun toy for years to come.
Label Kingdom has kid's iron on labels that are durable and safe. They'll survive the toughest washes including commercial & domestic washing & drier cycles without fading or peeling off, and they won't bother your child. Our children's iron-on name tags come in three broad categories, and each category has several fun designs and colours to purchase and browse.
Contact: 1800 264 549
Website: labelkingdom.com.au