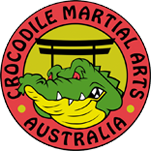 We are Adelaide's leading Family Focused professional martial arts school. We offer classes for Men, Women, Teens and Kids from 3 years old. We cater to all physical abilities and fitness levels.
We have classes for the whole family!
We truly believe that Martial Arts is a way of life.
We truly believe that Martial Arts is a way of life not just a short-term hobby or casual past time. We teach so much more than just kicks and punches. What we teach are valuable life skills. The benefits or which will last a lifetime.
We are a black belt school. This means that we are dedicated to our students and committed to helping each and every individual student realise their goals and be the best that they can be.
Crocodile Martial Arts Australia is run by Grand Master Instructor Kancho Anthony Hockley and his wife Kelly. Our school is a genuine Family School with many of our own family and extended family members teaching, working and /or training in the school each day.
We offer you – Service – Value – Choice
We offer Age & Skill based separate classes with specific training available for Beginners, Intermediate, Advanced and Black Belt students.
We also offer family classes where adults and children from 7years old can train together offering a unique family bonding experience. Private lessons also available.
Contact: 0429 909 939