By Becc Burgmann and Lou Hurll, The Stylish Life Project
Nothing makes us smile more than receiving the most beautifully wrapped presents. It takes just a few extra details to really create a stylish effect that will delight and surprise this Christmas.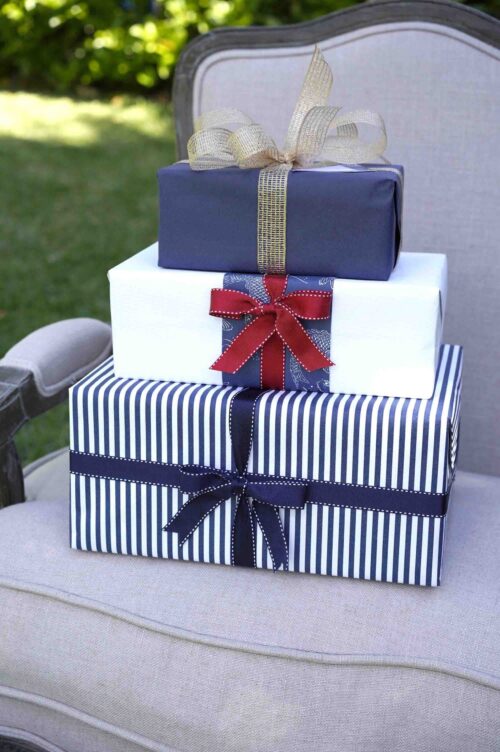 Tip #1: Stick to a colour scheme
Limited your palette for your gift giving will create a beautifully styled effect and will bring a smile to your face each time you see your gifts under the tree this Christmas. You don't need to keep with the traditional colour of red and green either. Why not try out a luxe pastel theme of pink, burgundy and gold? Here's we've used a classic Hamptons inspired palette of navy and white with a hint of red and gold to make it that extra bit more special!
Tip #2: Create a luxurious bow
Creating a luxurious bow will add style and sophistication to any gift and the recipient can't help but be delighted. Firstly wrap your gift once or twice with the ribbon, then tie off at the top in a double knot.
Next, loop the back and fourth three to four times. Take a thinner ribbon of co-ordinating colour and use this to secure the middle of the loop.
Simply snip away any excess and fluff up those loops to create this luxurious bow. Don't forget to snip the ends of your ribbon. We find that shorter lengths created the most amount of volume and drama.
Tip #3: Use double sided tape!
If you're taking the time and effort to really luxe up your wrapping, then you want to make sure those creases are sharp and straight and the effect isn't ruined by some average sticky-tape! The easy solution is double-sided tape.
Available from any stationers or newsagency, this is one to get in now before you forget during the Christmas rush. It's super simple to apply, simply cut the length you need, apply and remove the backing tape, before sealing your gift with this secret tape. Voila – the perfectly wrapped and styled gift!
Want to learn more about wrapping in style?
Join Lou Hurll and Becc Burgmann in this special video on wrapping gorgeous gifts for Christmas and beyond.
Want to buy this wrap and ribbon?
All the wrap and ribbon used in this article is available directly from The Stylish Life Project until 30 November or until sold out. www.thestylishlifeproject.com/boxes
About The Stylish Life Project
At The Stylish Life Project we create online courses to help Australian homeowners make great decisions about design, styling and buying, so it's easy to create beautiful spaces in your home and garden.
We partner with industry experts from across Australia to bring you online courses that will step you through the process of understanding your style, how to use designer tricks and tips, planning, styling and buying advice, and making sure it all fits in your budget too. www.thestylishlifeproject.com
We also create a free, digital magazine: Stylish Life Magazine.
Read the latest copy here: https://www.thestylishlifeproject.com/stylish-life-magazine-issue-6/