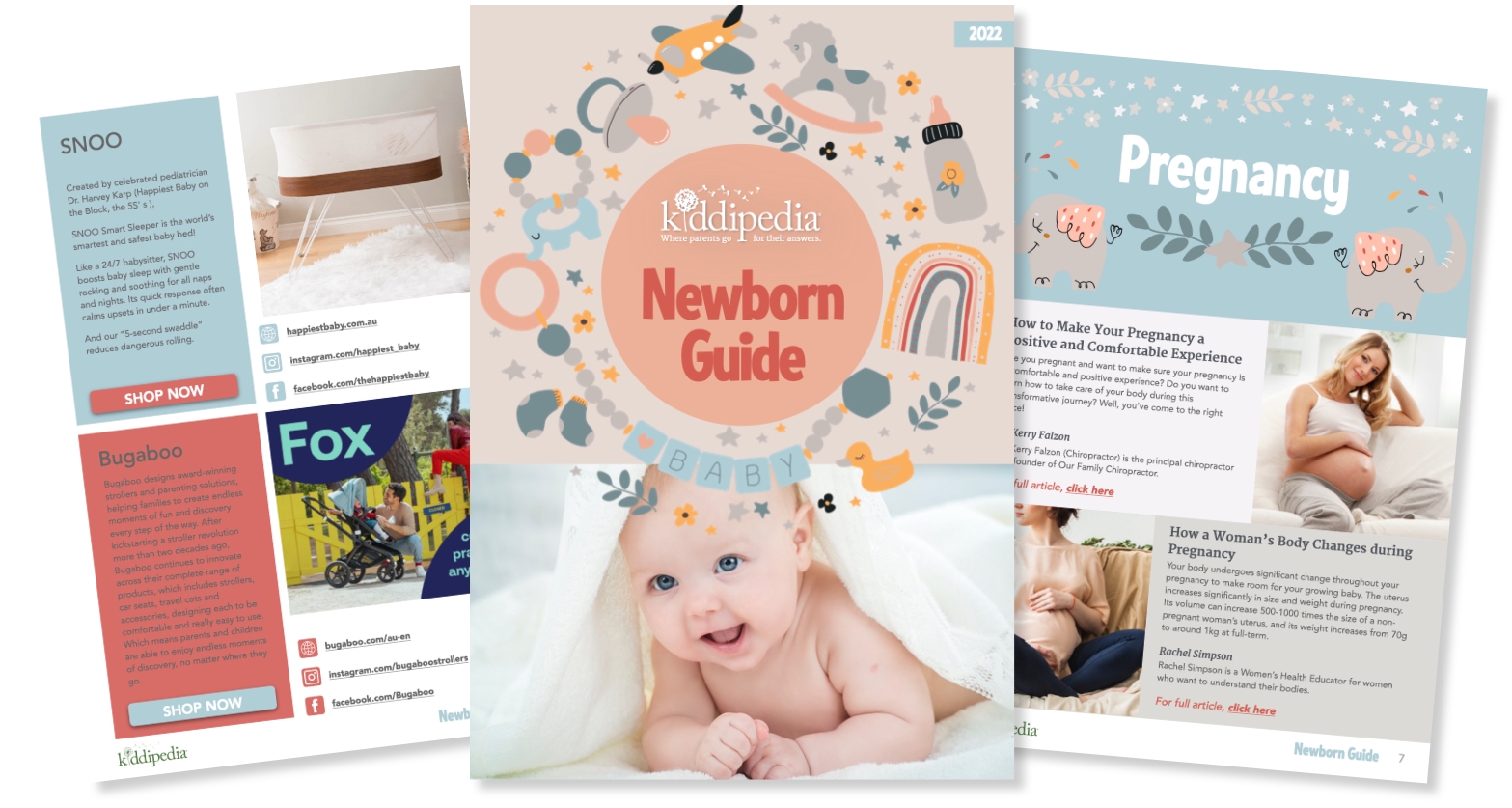 Kiddipedia's Newborn Guide
2022 EDITION
What could be more beautiful than bringing a new life into the world? It is undoubtedly incomparable and unparalleled with anything else.
From a baby's first heartbeat to the moment you hold your newborn in your hands, the journey to parenthood is a treasured time. Bringing a new life into the world although an absolute honour, is the single most challenging yet important task a person can undertake.
To help, we have created a Newborn Guide as a resource to support and educate both expecting and new parents through expert information and advice. This guide will also provide parents, friends and families with leading products and services that make practical, and thoughtful gift ideas.
In addition, we put a spotlight on Kiddipedia's partners, leading experts and thought leaders to deliver supportive messages to help you be the best parent you can be. The aim of the guide is to help and make a difference; I hope that it does that for you.
Much love
Inside the FREE Newborn Guide you will find:
Key messages from Australia's Leading Children's Health Organisations
Informative articles from Kiddipedia's Subject Matter Experts
Inspirational Gift Ideas for the newest member of your family
A spectacular selection of Australia's greatest products for Newborns
Helpful Parenting Resources
Messages from industry leaders including:
Take a peek at our fabulous contributors:
Informative Articles



Dr Harvy Karp

For the last 25 years, Dr. Harvey Karp is one of America's most trusted paediatricians and one of the world's most renowned baby and sleep experts. He is on the faculty of the USC School of Medicine and a fellow of the American Academy of Pediatrics. He is the founder and CEO of Happiest Baby, a smart-tech and parenting solutions company and the revolutionary SNOO bassinet. Dr Karp's breakthrough discoveries have benefited millions of parents and are taught by thousands of specially trained educators in over 20 nations. For over 20 years, Dr Karp has been a tireless advocate in the promotion of children's rights to a healthy and safe environment.



Denise Condon

Denise Condon is a Lactation Consultant at The Mater Private Hospital, one of Sydney's leading maternity hospitals, and works with mothers in the first few days with their newborns to establish a good breastfeeding pattern. Denise has more than 35 years of experience as a lactation consultant and as a midwife and has delivered countless babies in her career. She is a member of the Lactation Consultants of Australia & New Zealand (LCANZ) and the International Lactation Consultant Association (ILCA).



Dr Ian Hill

Dr Ian Hill is an experienced obstetrician and gynaecologist practising in the inner west and eastern suburbs of Sydney. He specialises in high-risk obstetrics, top-level pre-, ante- and post-natal care, and routine gynaecology covering all aspects of women's reproductive health. He has practised at both Royal Prince Alfred and Prince of Wales Private Hospitals.
Spectacular Products



SNOO (* Australian Exclusive)

SNOO Smart Sleeper Bassinet by Happiest Baby is the worlds most awarded, smartest and safest baby bed, and is exclusive in Australia to Kiddipedia. Created by celebrated pediatrician Dr Harvey Karp, SNOO adds 1-2 hours of sleep per night. Sleep Trains Baby. Acts as a virtual babysitter. Automatically responds to your baby's fussing. Supported via a mobile app. Happiest Baby's 5-second swaddle reduces dangerous rolling provides added security. SNOO provides peace of mind and added sleep.



Bugaboo

Best in class, world-leading prams and accessories. Designed for discovery Bugaboo believes that families don't have to go all that far to discover a world of something new. Bugaboo design extraordinary products and parenting solutions that make spending time together with your child exciting, memorable, and, most importantly, fun, no matter where you go.



Pigeon

For over 60 years, the name Pigeon has been synonymous with comfort, trust, value and uncompromising quality. As a market leader in a broad range of mother and baby products, millions of parents around the world use Pigeon products every day.
Today, Pigeon is recommended by many top medical and academic professionals to mothers and babies. In 2020 they were rated by Canstar as the most satisfied customers for Baby Bottles. Pigeon, developed by experts, trusted by mums.
Would you like to feature in the next Newborn Guide edition?
Like what you've seen? Think this kind of initiative is the perfect place for your business or organisation to reach your audience? Get in touch to assure you're featured in Kiddipedia's next premium downloadable resource.