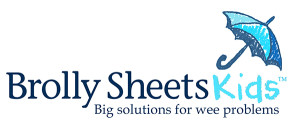 My name is Diane Hurford and I grew up in Hamilton, New Zealand, moving to London for my OE and back to NZ in my late 20's. After a lot of years "seeing who was out there" I married my best friend of over 20 years and we have two wonderful (most of the time) children – Mia, 12 and Lewis 10. I designed Brolly Sheets in 2006 after I needed a fast and easy solution to changing Mia's bed in the middle of the night. She used to sleep in a bottom bunk and every night I would hit my head on the top bunk as I completely stripped and remade her bed. (OK – we aren't all as co-coordinated in the middle of the night as we would like to be!). I don't know about you but the sooner I can get back to sleep, the more reasonable I am the next day.

They say that necessity is the mother of all inventions and I knew there had to be a better way so I created a waterproof mattress protector that my children could comfortably sleep on. I bought some fabric and PVC and made the first ever Brolly Sheet.

I had started making Brolly Sheets for friends and family when my husband was offered a job in Sydney. So we packed the family up and moved to Sydney for 20 months. A friend said "why not start it up in Australia" and so I did. There are now several thousand Brolly Sheets on Australian beds.

Once the Australian market was up and running, hubby got offered a job back in New Zealand and so the family moved back to Auckland. It was time to "launch" Brolly Sheets on the New Zealand market.

Because it was designed by me – a Mum, I made sure that Brolly Sheets came in fantastic colours to match a child's decor and bedding. They also come in cot, single, king-single, double and queen bed sizes and are easy to wash!

Brolly Sheets really is a family business as both children have often helped out with packing and being models in the photo shoots; they are used to discussions about tax and import duty at the dinner table and spend time in the school holidays at the office.   Glenn is always on hand with ideas and IT solutions though he is presently studying Psychology at Auckland University.

Now that you know a little more about me, we hope you will enjoy using your Brolly Sheet.
Diane Hurford
Contact: 1800 809 847
Website: http://www.brollysheets.com.au