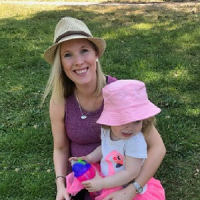 Stress Less Baby Guide
Sarah is a Registered Nurse and Midwife, a Maternal and Child Health Nurse and an International Board Certified Lactation Consultant. She works as a Maternal and Child Health Nurse in Melbourne, is married to Luke and mummy to Eliza and Edward.
Sarah is the author of "The Stress Less Baby Guide" – a guide to the first year of raising a baby in Australia. Her book was born from a combination of her professional knowledge and training as well as the wisdom from her own parenting experiences and those of hundreds of Australian families she has worked with.
"Parenting your first baby is an extremely daunting time, made more stressful by the abundance of mixed information that parents have access to.   The Stress Less Baby Guide seeks to minimise this stress by acknowledging that all parents and babies are different and therefore guidance should always be flexible to accommodate the differing needs and values of your unique family unit."
Sarah is thrilled to be contributing to Kiddipedia's monthly blog and hopes to share some informative but flexible guidance that helps parents to 'Stress Less'.